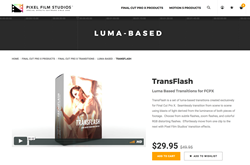 This is a new FCPX Transition uses blasts of light to seamlessly transition.
Aliso Viejo, CA (PRWEB) May 15, 2017
TransFlash is a set of luma-based transitions created exclusively for Final Cut Pro X. Seamlessly transition from scene to scene using blasts of light derived from the luminance of both pieces of footage. Choose from subtle flashes, zoom flashes, and colorful RGB distorting flashes. Effortlessly move from one clip to the next with Pixel Film Studios' transition effects.
TransFlash utilizes the light in both scenes and overexposes with a variety of effects to create a seamless transition. Easily adjust the flash strength and brightness with a single slider. With distortion controls, users can alter the distortion amount, zoom amount, and zoom position with the click of the mouse. TransFlash makes transitioning a breeze in Final Cut Pro X.
Transitions are extremely easy to use in Final Cut Pro X. To start, drag a preset between two video clips in the FCPX timeline. Next, click and drag the edge of the transition to stretch or shrink the animation duration of preset. After adjusting timing, change the camera, distortion, and effect controls that can be found in the top-right inspector window.
TransFlash features camera controls that allow editors to simulate the effect of a shaky camera. Turn up the shake amount to increase the camera rumble to complement stronger prism and zoom blur effects.. With the "new shake" generate button, users can instantly create a unique camera shake with the click of a mouse.
TransFlash features zoom on-screen controls that allow editors to alter the focal point of the transition effect. Click and drag the control to see a live preview of the change in the Final Cut Pro viewer window. With the "zoom amount" slider, users can adjust the dynamic blurring between video clips. Instantly transform the look and feel of any video production.
Established in 2006, Aliso Viejo, California-based Pixel Film Studios is an innovative developer of visual effects tools for the post-production and broadcast community. Their products are integrated with popular non-linear editing and compositing products from Apple FCPX. Apple, the Apple logo, Mac OS X, and Macintosh are registered trademarks of Apple Inc. in the U.S. and/or other countries. All other trademarks and trade names are the property of their respective owners.