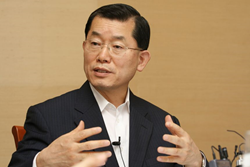 Drucker's principles have worked in helping organizations be effective and high-performing—economically, environmentally and socially.
CLAREMONT, Calif. (PRWEB) May 16, 2017
The Drucker Institute at Claremont Graduate University announced today the launch of a new arm: the KH Moon Center for a Functioning Society.
The KH Moon Center—named for a Korean-based leader who has long exemplified Peter Drucker's ideas and ideals through his work in the corporate, NGO and public sectors—will examine and seek to impact larger societal issues that cut across our organizations and communities.
Among them: shaping the future of employment in an era when automation is accelerating and more and more traditional jobs are fracturing into independent "gig work"; developing systems of lifelong learning in a knowledge age; and shifting corporate executives' focus from short-term financial metrics to long-term sustainability.
To affect these and other areas, the KH Moon Center will use the Drucker Institute's uniquely effective facilitation process to convene the right leaders in a safe, nonpartisan space so that they can work together on some of our greatest challenges—and then plan out concrete steps to test and pilot their ideas.
It will also develop tools and frameworks—such as the Drucker Index, a measure of corporate effectiveness—to help leaders make real strides on major social issues.
"Most of our programs address the first half of our mission: strengthening organizations," said Zach First, the Drucker Institute's executive director. "The KH Moon Center addresses the second half—to strengthen society—by bringing to life Peter Drucker's insight that no organization exists for long unless it contributes its unique melody to the overarching symphony of society."
Rick Wartzman, who was the Drucker Institute's executive director from 2007 until early 2016, will lead the KH Moon Center. For the past year and a half, he has been a senior advisor to the Drucker Institute. Wartzman also writes about the world of work for Fortune online, and his latest book, The End of Loyalty: The Rise and Fall of Good Jobs in America, will be published later this month.
"In my more than 40 years with various enterprises, profit and nonprofit, Peter Drucker's core principles have worked so well in helping these organizations be effective and high-performing—economically, environmentally and socially," said KH Moon. "Having the Center for a Functioning Society named for me is my great honor."
Curt Pullen, the Drucker Institute's chairman, added: "Peter Drucker's conviction in the importance of a functioning society is illustrated throughout his work. With the launch of the KH Moon Center for Functioning Society, we are bringing additional resources to organizations of all types and helping them learn how their efforts can contribute toward creating a society that benefits us all."
For more on the KH Moon Center for a Functioning Society, please visit http://www.drucker.institute/society/.
About the Drucker Institute 
The Drucker Institute is a social enterprise based at Claremont Graduate University. Our mission is strengthening organizations to strengthen society. Our programming—for the corporate, nonprofit and public sectors—is built on a foundation of YESTERDAY/TODAY/MONDAY*. "Yesterday" refers to the fact that our work is grounded in Peter Drucker's timeless wisdom. "Today" speaks to the urgency that we know organizational leaders feel to successfully meet their greatest challenges and opportunities. And "Monday" points to our proven ability to help executives move quickly from ideas to action to results, just as Drucker urged his own consulting clients: "Don't tell me you had a wonderful meeting with me. Tell me what you're going to do on Monday that's different." For more, visit http://www.drucker.institute.
About Claremont Graduate University 
Founded in 1925, Claremont Graduate University is the graduate university of the Claremont Colleges. Our five academic schools conduct leading-edge research and award masters and doctoral degrees in 24 disciplines. Because the world's problems are not simple nor easily defined, diverse faculty and students research and study across the traditional discipline boundaries to create new and practical solutions for the major problems plaguing our world. A Southern California based graduate school devoted entirely to graduate research and study, CGU boasts a low student-to-faculty ratio.