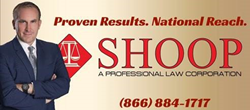 (PRWEB) May 16, 2017
LASC Case Number BC587438 featured a $300,000.00 settlement with a co-defendant and a $1.5 million dollar verdict against the remaining defendant. Additionally, the Court added CCP 998 prejudgment interest of $223,123.00 and costs of $67,757.53 to the judgment. A link to the Jury Verdict Alert write-up can be found here, coupled with additional trial team and case details:
http://www.juryverdictalert.com/jury-verdicts/item/highlighted-verdicts/gilda-de-paz-v-vpmg-1772-preuss-llc
Plaintiff was injured on the premises owned by defendant VPMG 1772 Preuss, LLC in February 2015. Plaintiff stepped into what she believed to be a closet, but it was actually a steep stairway. Plaintiff fell down the stairs into the basement, suffering multiple and severe orthopedic injuries requiring open reduction and internal fixation surgery.
According to court documents, the plaintiff contended that the stairway was dangerously steep and lacked appropriate handrails, and the defendants knew of the dangerous condition, but failed to take steps to correct the issue or otherwise warn plaintiff of the danger. The defendant claimed the stairs were adequately protected by a deadbolt lock and door, however, defendant admitted liability before the start of the trial.
After her accident, the plaintiff required an extended hospital stay and assistance with daily activities for several months. The verdict included an award of $1,250,000 for past non-economic damages, and $250,000 for future non-economic damages.
The product liability lawyers at SHOOP | A PROFESSIONAL LAW CORPORATION represent clients nationally with regard to defective products and medical devices. David Shoop and Don Liddy are preeminent lawyers and have secured numerous multi-million dollar verdicts and settlements at trial. To learn more about the cases the firm handles, please visit the website at http://www.losangelesproductliabilityfirm.com/
SHOOP | A PROFESSIONAL LAW CORPORATION
Defective Product Lawyers with a National Presence.
We Get Results. Period.
Call us today for a free consultation at 866.884.1717