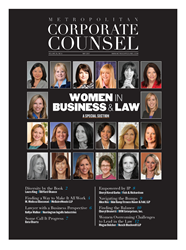 New York, New York (PRWEB) May 24, 2017
Law Business Media, publishers of Metropolitan Corporate Counsel, In-House Ops and In-House Tech, are pleased to announce our recent special section "Women in Business & Law." The section features seven articles by or about women in business or law. As several of the women themselves emphasized, they are all in business (though they are not all lawyers), and they spoke about some of the special challenges this entails. To underscore the point, a few charts have been incorporated into this section that can serve as scorecards to track the progress women have made in recent years – and the distance that remains.
In conjunction with this section, Law Business Media is pleased to announce a new webinar series dedicated to Women in Business & Law. Our first event, BE THE CEO OF YOUR OWN CAREER, will be held on June 15, 2017 at 1:30pm ET. This event will be moderated by Megan Belcher, a partner with Husch Blackwell LLP who will be joined by Chelsea Grayson, Former CEO of American Apparel and Miriam Frank, VP & Leader of Legal Talent at Major Lindsey and Africa. Register for free at bit.ly/WIBL61517.
About Metropolitan Corporate Counsel
Metropolitan Corporate Counsel, an integrated digital and print media platform, is celebrating its 25th year of providing cutting-edge news and analysis to corporate law departments, executives and board members. Founded by Al Driver, former General Counsel of JC Penney, who served as editor, and Martha Driver, a former top financial executive with TIAA-CREF, who served as publisher, MCC was purchased in 2014 by Law Business Media, which is co-owned by Kristin Calve and Joe Calve, both former ALM executives. At ALM, Kristin helped develop and launch the Daily Deal and VerdictSearch, and she has held key leadership positions at other media companies, including A&E / the History Channel International. She is the founder of Topstone Angels, which focuses on funding and advising early-stage companies. At ALM Joe served as editor of the Connecticut Law Tribune, editor and publisher of Texas Lawyer, where he ran the largest legal technology event in the Southwest, and as a vice president responsible for, among other properties, The National Law Journal. Since leaving ALM, he has served as chief marketing officer and head of business development for four Am Law 100 firms: White & Case, Proskauer, MoFo and, currently, 1,000-lawyer McGuireWoods.
About Law Business Media
Founded in 2014, Law Business Media, an integrated global digital and print media and marketing company, purchased Metropolitan Corporate Counsel and http://www.metrocorpcounsel.com as the first step in the development of a global legal media and marketing platform which now also includes the online publications In-House Ops and In-House Tech. The company partners on content development and distribution, webinars and live events, and research and analysis with many of the world's leading law firms and other service providers focused on corporate law departments, including Clifford Chance, Weil Gotshal, Jones Day, Fish & Richardson, the National Association of Corporate Directors, KPMG, iDiscovery Solutions, Lexis-Nexis and FRONTEO.