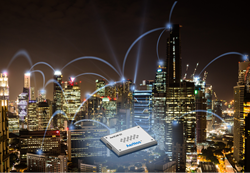 AerNos nano gas sensors will provide city officials, businesses and citizens, real-time insights and trends, often personalized or customized, to make smarter and healthier decisions.
La Jolla, California (PRWEB) May 16, 2017
AerNos, an innovator in nano gas sensors, announced today that it has developed a tiny, accurate, and affordable nano gas sensor configured to simultaneously detect multiple harmful gases to the parts per billion and designed specifically to integrate with Internet of Things (IoT) connected devices that are increasingly powering smart city initiatives.
Smart cities rely heavily on smart assets and the IoT to deploy a network of sensors used to collect, analyze and provide meaningful insights to improve quality of life, drive an innovative economy and create a healthier and more sustainable environment. Smart sensors such as image, infrared, thermal, light, sound, heat, humidity, motion, gunshot, vibration, air quality and air pollution are used to capture real-time data which can then be analyzed and made available to improve decision making by citizens, governments, businesses, researchers and civil society organizations.
According to Navigant Research, there are more than 250 smart city projects from 178 cities around the world. Cities in the forefront of smart city initiatives include Singapore, Copenhagen, Seoul, London, Helsinki and Barcelona where millions of sensors capture data every second. With an increase in artificial intelligence and predictive analytics, city officials, businesses and citizens are able to receive real-time insights and trends, often personalized or customized, to make smarter and healthier decisions.
Utilizing proprietary AerCNT technology, AerNos Smart City Air Pollution nano gas sensors (AerSCAP) product lines will detect carbon monoxide, carbon dioxide, nitrogen oxides, ground level ozone, sulfur dioxide, and gas leaks. According to the American Lung Association and the World Health Organizations, these gases can negatively impact human health and the environment and can endanger the safety and security of citizens. AerNos AerSCAP products will come in three configurations to support the simultaneous detection of 3, 4 or 7 gases. Designed for stationary and mobile applications, AerSCAP will easily integrate into existing city infrastructure such as street lights, parking meters, traffic lights, surveillance systems, public transportation systems and other smart city assets.
In addition to simultaneously detecting multiple harmful gases to the parts per billion, AerSCAP is always on, requires no ongoing calibration, can be configured for specific geolocation microenvironments, and comes in configurations that can support decade long lifespan requirements. The AerSCAP packaged system includes a nano gas sensor array and electronics to support intelligent on-board processing and communications. AerSCAP enables integration and development partners to eliminate the costly and complex selection, qualification, and system level integration of discrete devices, guaranteeing optimal gas sensing performance.
"The benefits of smart city initiatives, from improved quality of life, to economic efficiencies, to safety, health and the environment are indisputable," said Sundip R. Doshi, CEO of AerNos. "We are thrilled that our nano gas sensors will play an important role in realizing the healthier, cleaner and safer cities of the future."
According to the World Bank, air pollution costs the global economy more than $5 trillion annually. Smart cities hope to reduce this burden by implementing smart sensors that can help monitor and implement specific actions to reduce air pollution. According to Frost & Sullivan, the global smart cities market is projected to reach US$1.56 trillion by 2020. A report from Frost & Sullivan projects the global sensor market to generate more than $162 billion in 2019, with industrial control, smart cities and eHealth leading revenue generation.
About AerNos
AerNos, Inc develops application specific nano sensors based on its breakthrough and proprietary AerCNT Technology to detect harmful gases in the environment. AerNos nano gas sensors are designed to be easily integrated into consumer and commercial product lines such as standalone monitoring devices, smart city installations, non-stationary devices (drones, industrial robots, construction equipment, etc.), modes of transportation, wearables, smartphones and the Internet of Things (IoT).
AerNos – To always know what's in the surrounding air
For more information, please visit http://www.AerNos.com or contact us at info(at)AerNos(dot)com.