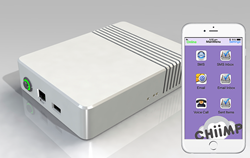 CHiiMP Smart is continuing to win over operators in the USA and abroad
New York, NY (PRWEB) May 17, 2017
AS-IP Tech, Inc. (OTCMKTS:IPTK) announced today that its distributor BizjetMobile LLC has secured City Jet Inc. as the second North American fleet customer for CHiiMP Smart.
CHiiMP Smart is the only inflight connectivity system in the world that utilizes Bluetooth Smart technology and Iridium to simultaneously connect pilots and passengers with the outside world via voice, text, email and tracking services.
AS-IP Tech, Inc. President Ron Chapman said, "The signing of City Jet Inc. as the third fleet customer globally shows that CHiiMP Smart is continuing to win over operators looking for a proven connectivity alternative to inflight Wi-Fi. A single one-off payment for CHiiMP Smart's all-inclusive package makes it quick and simple for new customers to get connected, and has been very well received in the USA and abroad."
About AS-IP Tech, Inc.
AS-IP Tech, Inc. is a world leader in Bluetooth Smart connectivity systems for aircraft. With a 30-year history of flying unique communications technologies worldwide, company management has spent the last decade focusing on creating a new and exciting method for passengers and crew to connect inflight, with the aim of dramatically reducing the avionics and data costs for airlines.
Safe Harbor Disclosure
This press release may include "forward-looking statements" within the meaning of the federal securities laws, commonly identified by such terms as "believes," "looking ahead," "anticipates," "estimates," "may," "will," "should," "could," "expect," "intend," "project," and other terms with similar meaning. Although the company believes that the assumptions upon which its forward-looking statements are based are reasonable, it can give no assurance that these assumptions will prove to be correct. Important factors that could cause actual results to differ materially from the company's projections and expectations are disclosed in the company's filings with the Securities and Exchange Commission. All forward-looking statements in this press release are expressly qualified by such cautionary statements and by reference to the underlying assumptions.