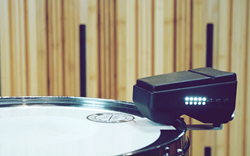 We're very thankful for the strong demand we've seen from drummers from all over the world
Detroit, Mich (PRWEB) May 16, 2017
DremTrigger, the next stage in the evolution of electronic drumming devices that allows players to blend more elements into their organic sound, has surpassed its initial goal of $35,000 on Kickstarter.
"We're very thankful for the strong demand we've seen from drummers from all over the world," said founder and creator Josh Fifelski. "We'd like to thank each one of our backers for making DremTrigger possible and we can't wait to start shipping them."
DremTrigger is a plug and play, stand-alone device that transforms the way drummers drum by using lasers to allow them to blend additional elements to the organic sound of the drum.
"There hasn't been any significant improvements to drum triggers for a number of years and we're aiming to fill that void," added Fifelski.
The 'swiss army knife of drum products' comes with a rechargeable battery, providing eight-to 10 hours of power, along with 4 GB of onboard memory that allows drummers to drag and drop up to 24-bit audio directly onto the device for ease of use and transportability.
DremTrigger is also a MIDI controller that hooks right into Ableton, giving drummers access to a plethora of features including actions such as lighting cues or simple song changes. The drumming device additionally has two pressure-sensitive pads that drummers can strike to add loops, or more one-shot sounds to be fired during a song by using a foot stomp sound or pop toms.
DremTrigger's Kickstarter campaign ends on May 18th. For more information and to purchase the next generation high-tech drum triggers during crowdfunding, visit the DremTrigger Kickstarter Campaign Page.
About DremTrigger
Detroit native Josh Fifelski, who started playing drums when he was 9-years-old, began the development of the DremTrigger with Jeremy Domonkos three years ago to create a more advanced drum trigger for fellow drummers at an economical cost: DrēmTrigger. The product is pronounced Dreem-Trigger. DrēmTrigger: What our Trigger is to a Drummer is a Dream. For more information, visit dremtrigger.com.