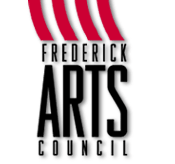 Frederick, Maryland (PRWEB) May 18, 2017
On Thursday, May 4th, the "Sky Stage" project designed by Heather Clark and managed by the Frederick Arts Council was awarded a Historic Preservation Award for Community Leadership by the Historic Preservation Commission of the City of Frederick.
The Historic Preservation Commission presents these awards each year in various categories to rehabilitators of properties 50 years or older, who have demonstrated excellent care toward the historic features of the properties and to their viability for continuing use. Artist Heather Clark, property owner Rusty Hauver, and the Frederick Arts Council were presented with the award for Community Leadership, because of Sky Stage's innovative preservation and usage of the formerly burned Pre-Revolutionary structure at 59 South Carroll Street.
"This is an exciting confirmation of the transformative power of interactive public art projects like Sky Stage," says Louise Kennelly, Executive Director of the Frederick Arts Council. "We are so grateful to know that those invested in Frederick's rich history appreciate and commend Sky Stage's innovative fulfillment of a community need."
Sky Stage, which encompasses a large-scale public sculpture and an outdoor amphitheater, is open for its Spring/Summer 2017 season with a variety of arts and holistic programming. It recently earned a feature in The Washington Post's Going Out Guide for its innovative imagining of a community gathering space. Visit skystagefrederick.com to look at the calendar and to find out more.
About the Frederick Arts Council
The Frederick Arts Council invests in a vibrant and cohesive arts community for the people of Frederick County. The organization fosters an environment where the arts flourish in the community through grants and scholarships, arts advocacy, and links to essential resources. FAC is responsible for large-scale programming such as the Frederick Festival of the Arts, Art in the Park, and Frederick County's Arts in Education grants. For more information about the Frederick Arts Council, visit http://www.frederickartscouncil.org.