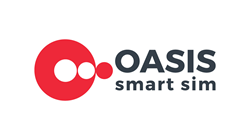 Olivier Leroux, CEO, Oasis: "Oasis Smart SIM provides a full end-to-end embedded connectivity solution based on the secure and reliable USIM technology, which is already embedded in millions of devices in form of cards, modules or or Integrated UICC."
Paris, France (PRWEB) May 17, 2017
Oasis Smart SIM, the expert in (e)SIM embedded Operating System and mobile networks connectivity and activation solutions, announces today that it has been collaborating with Tata Communications to implement an end-to-end embedded connectivity solution in the recently-unveiled Tata Communications MOVE mobility and IoT platform. This will enable its enterprise customers' mobile devices to connect seamlessly to the company's global network, which provides them with enterprise-grade, secure connectivity across 240 countries and territories.
The Oasis solution includes the supply of bespoke SIM and eSIM products to Tata Communications' enterprise customers, together with the set-up of a state-of-the-art delivery and remote SIM provisioning center located in Singapore.
Oasis' custom-designed products and solutions are derived from EOS and Helios product ranges which were developed per the GSMA Remote SIM Provisioning technical specifications, but also offer cost-effective and technology-agnostic methods to implement profile provisioning in the IoT space. The solution is fully integrated with the Tata Communications MOVE platform through APIs.
Mick Higgins, VP of Mobility, Tata Communications: "At Tata Communications we believe that everything should be 'born connected', with embedded connectivity within everything, and for everyone. Incorporating Oasis Smart SIM technology into Tata Communications MOVE will play a part in how we will enable our enterprise customers to connect seamlessly around the world, as they look to drive their digital transformation with the latest mobile technologies."
Olivier Leroux, CEO, Oasis: "At Oasis Smart SIM we've been working for years to provide a full end-to-end embedded connectivity solution based on the secure and reliable USIM technology. Our technology is already embedded in millions of devices in form of cards, modules or Integrated UICC. Our collaboration with Tata Communications is a further demonstration of the strength of our technology expertise."
About Oasis Smart SIM
Oasis Smart SIM provides both end-to-end and customized services to enable the deployment of global USIM technology connectivity and management. Oasis' mission is to embed USIM technology in all connected devices and provide secure services to manage their activation and connectivity. This value proposition is ensured by Oasis offering: a full set of services for embedded and reprogrammable SIM, along with solutions for activation, connectivity and subscription management. Oasis contributes in shaping the globally connected world by combining leading edge USIM technology and disruptive business models in a migrated focus from products and solutions to software and services.
About Tata Communications
Tata Communications Limited (CIN no: L64200MH1986PLC039266) along with its subsidiaries (Tata Communications) is a leading global provider of A New World of Communications™. With a leadership position in emerging markets, Tata Communications leverages its advanced solutions capabilities and domain expertise across its global network to deliver managed solutions to multi-national enterprises and communications service providers.
The Tata Communications global network includes one of the most advanced and largest submarine cable networks and a Tier-1 IP network with connectivity to more than 240 countries and territories across 400 PoPs, as well as nearly 1 million square feet of data centre and colocation space worldwide.
Tata Communications' depth and breadth of reach in emerging markets includes leadership in Indian enterprise data services and leadership in global international voice communications. Tata Communications Limited is listed on the Bombay Stock Exchange and the National Stock Exchange of India.
http://www.tatacommunications.com
Press Contact Tata Communications
Kersti Klami
+44 207 029 9742
kersti.klami(at)tatacommunications.com