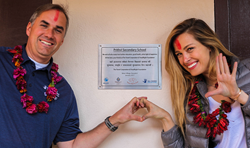 We look forward to exchanging our work boots for dress shoes and celebrating a wonderful year of progress.
Mattapoisett, MA (PRWEB) May 18, 2017
The seventh annual Happy Hearts Graduation Gala will be held on June 7, 2017, at the One World Trade Centre in New York City.
The gala will be a celebratory event, continuing the Happy Hearts Fund's annual tradition of distinguishing supporters and partners for their efforts in transforming the lives of children and creating lasting hope. Past honorees include Bill Clinton, Howard Buffett and Quincy Jones. This year's awards will go to Sage and Tony Robbins, Ramzi Musallam, and leading disaster relief organization All Hands Volunteers, each to be honored for both their support and accomplishments in providing life-changing educational opportunities for children affected by natural disasters worldwide.
David Campbell, Chairman and Founder of All Hands Volunteers, will be accepting the Honored Partner Award on behalf of his organization. Says David, "After working together in the trenches to build schools for kids in Nepal, it is a distinct honor to be able to accept this prestigious award from an organization we so admire. We look forward to exchanging our work boots for dress shoes and celebrating a wonderful year of progress."
All Hands Volunteers has most recently partnered with Happy Hearts in Nepal, where their combined efforts have resulted in the rebuilding of 6 schools and over 50 classrooms in the earthquake affected districts of Sindhupalchowk and Nuwakot. Close to 8,000 schools were destroyed by the earthquakes in 2015, leaving thousands of children without classrooms. It is the complementary vision of the organizations, both of which are committed to the long-term recovery of disaster affected communities, that has led to such a successful partnership. The Honored Partner Award is recognition of the hard work by both organizations and one which both hold in high esteem.
About the Happy Hearts Fund:
The Happy Hearts Fund was founded by Supermodel Petra Nemcova, after surviving the tragic 2004 Indian Ocean Tsunami. The nonprofit was established in 2006, in order to bridge the gap after emergency response where children are often forgotten. The organization is focused on building hope and empowering children and communities, by rebuilding safe and resilient schools in areas impacted by natural disasters. As a result of their efforts, Happy Hearts has been able to rebuild 162 schools across 10 countries globally, serving 99,500 children and impacting 613,000 community members.
For further information: http://happyheartsfund.org/about/
About All Hands Volunteers:
Since its inception following the Indian Ocean earthquake and tsunami in 2004, All Hands Volunteers has responded to 79 disasters worldwide, engaging over 39,000 volunteers to help more than 500,000 individuals impacted by natural disasters all over the world; including Hurricanes Katrina and Sandy, Typhoon Haiyan in the Philippines and the devastating earthquakes in Nepal in 2015. Philanthropic leaders say the organization is known for being nimble, collaborative, and professional in its response to the immediate and long term needs of those suffering in the aftermath of a natural disaster. All Hands Volunteers has received Charity Navigator's highest 4 Star Rating.
All Hands Volunteers currently has disaster relief programs in Louisiana, Missouri, Nepal and Peru. Find out more at http://www.hands.org
Interviews available on request.