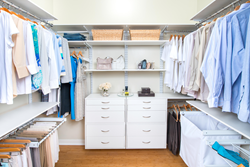 Cincinnati, OH (PRWEB) May 23, 2017
Now more than ever, homebuyers are seeing that an adjustable storage system adds value to their daily life. Fixed wood and wire shelving in closets no longer meet the demands of homebuyers. They want a strong and reliable system that can be adjusted to accommodate their storage needs. Home builders are turning to Organized Living freedomRail as the solution.
Adjustability. One of the major benefits of a freedomRail system for homebuyers is the ability to change the design to accommodate the homebuyer's active lifestyle. The builder installs one system for life and the homebuyer can adjust it to fit their needs at any time, without tools. And with up to 50 percent more steel than other systems, freedomRail will keep up with active families.
Maximize floor plans. Another benefit of the freedomRail system is there is no wasted space. Builders don't need to modify floor plans to accommodate a larger closet; they can simply install an adjustable freedomRail system to maximize the available space. This saves on building costs and time.
Satisfy homebuyers. Homebuyers will be more satisfied at move-in. They can unpack with confidence knowing their possessions are stored properly and organized. An adjustable freedomRail system will bring value to the homeowner's life from move-in.
Maximize storage spaces. A freedomRail storage system can be designed to fully maximize the available space. Homebuyers can often double the amount of storage space with freedomRail compared to fixed wood or wire shelving. If the homebuyers are of varying heights or require the house to follow ADA compliance, freedomRail can be adjusted to fit those needs.
More selling opportunities. Lastly, freedomRail gives builders an opportunity to increase profits. A freedomRail system is a simple upgrade option because homebuyers appreciate it as a worthwhile investment. It is one system that can be used throughout the home so there are plenty of opportunities to add upgrades.
Want to learn more about how adjustable freedomRail systems can benefit home builders and homebuyers? Visit http://www.OrganizedLiving.com/builders today.