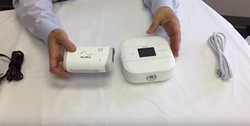 "Consumer's feel that they make a better buying choice when price and feature comparisons are transparently available from online shopping carts." Said Chris Vasta, President of TheCPAPShop.com. "We also feel that customer service begins before the actual
West Berlin, New Jersey (PRWEB) May 17, 2017
Agile Medical, parent company of http://www.thecpapshop.com is pleased to announce an easy way to purchase travel CPAP equipment via a comparison guide ,comparison videos, and a landing page featuring only the latest travel CPAP machines and accessories, complete with product reviews. Featured on these pages are the newest travel cpap units; ResMed AirMini™ and the Philips DreamStation Go™, along with previous models; Somnetics Transcend™ and the Human Design Medical Z1 Auto™. The information available is designed to help CPAP users search for the best travel CPAP machine most suited to their needs. It can assist with comparing and contrasting to an array of features. However, if users have additional questions, we highly suggest that they chat or speak with one of our sales representative who can assist them.
"Consumer's feel that they make a better buying choice when price and feature comparisons are transparently available from online shopping carts." Said Chris Vasta, President of TheCPAPShop.com. "We also feel that customer service begins before the actual sale and we encourage our customers to take advantage of our unbiased rating assessment given by our sales associates who have worked for many years in the industry and possess in depth product knowledge."
Recently, the two largest CPAP manufacturer's have moved quickly into the travel CPAP space bringing high quality, innovative products for people looking to travel with their CPAP. Recent announcements include Philips Respironics with the DreamStation Go™ and ResMed with the AirMini™ Both have jumped headlong into the travel CPAP market with portable, light and extremely travel friendly CPAP machines which most certainly will be the new standard bearers for this new generation of CPAP units.
During the past few years, Somnetics Transcend Mini™ CPAP and the Human Design Medical Z1 Auto™ CPAP machines dominated the travel CPAP market. Certainly, both of these innovative units started a trend toward smaller, portable units. This year, however, both of the leading CPAP manufacturing brands, Philips Respironics and ResMed have responded by introducing their own innovatively designed, portable CPAP machines packed with features typically found in standard machines.
The reasoning behind smaller, portable CPAP machines
Obstructive Sleep Apnea (OSA), is a sleep disorder in which a person's throat muscles relax and close during sleep to block the airway, resulting in decreased oxygen to the brain. Episodes of breathing cessation can happen just a few times or as many as 100 times during a sleep period.
A CPAP machine provides continuous air pressure through a mask connected by tubing to the machine. This steady airflow keeps breathing passages open and allows for therapeutic and restful sleep. CPAP is the most effective and least invasive treatment available for OSA. However, until recently, a typical CPAP machine was cumbersome to travel with, and many CPAP users opted to "go without" therapy during trips.
The Market
The market for CPAP equipment is growing. According to a study by Global Market Insights the U.S. sleep apnea devices market should witness over 7.5% CAGR to reach USD 3 billion in 2023 due to a huge patient pool and the need for products geared toward patient safety and comfort. According to The American Sleep Apnea Association (sleepapnea.org) 22 million Americans suffer from sleep apnea, with 80 percent of the cases of moderate and severe obstructive sleep apnea (OSA) undiagnosed. Travel has always been an issue with CPAP use because CPAP machines have traditionally been cumbersome to carry. Moreover, going without CPAP even for a night or two can be very detrimental to the patient's health and sleeping patterns. The new portable devices take the hassle out of CPAP travel so that people with OSA do not have to miss even one night of restful sleep.
Although the portable CPAP machine niche is only a subset of the larger market, both ResMed and Philips are pushing to be at the forefront of this renaissance. With all other consumer devices shrinking, bringing this technology to medical devices such as CPAP makes logical sense. Most likely, CPAP users will eventually purchase just one machine that they use every day, regardless of whether they are traveling, napping on the couch or spending the night at home.
The New ResMed AirMini™ travel CPAP machine
Today ResMed launched their version of a travel unit. It is being touted as the smallest and lightest CPAP ever brought to market. Seeing the AirMini™, there is no doubt this is a fact! The machine is extremely small – only as long as a smart phone and weighs a mere 10.6 ounces. The AirMini offers features refined for travel and adapted from ResMed's industry leading AirSense10 Auto CPAP. ResMed spent many months researching exactly what CPAP users need in a travel CPAP machine. They boiled it down to the most important specifications which include AutoRamp™, Expiratory Pressure Relief (EPR), Humidification, SmartStart™ and BlueTooth™. These features make it much more comfortable to fall asleep and adjust to breathing against the air pressure, as well monitoring and adjusting the CPAP therapy. Unlike its travel CPAP predecessors, this machine is whisper quiet, at only 30 decibels, and it does not compromise therapy even during air pressure changes. ResMed also has bundled humidification into this extremely small unit by adding HumidX™ technology that employs a disposable waterless humidifier that turns the moisture from the user's breath into humidity for the pressurized air.
The AirMini also has a new, smaller and more pliable tubing to help with travel. Also, the power block has been shrunk dramatically and is actually at the outlet. So carrying around a big power block is eliminated.
Of course, the AirMini™ meets FAA airport requirements for CPAP travel so you can sleep with it on a plane.
However, it is important to note that the AirMini™ works only with one of the following ResMed masks:

ResMed F20 full face CPAP mask
ResMed N20 nasal CPAP masks
ResMed AirFit™ P10 nasal pillows CPAP mask.
These masks can be purchased in a bundle with the unit along with other accessories such as a travel case, DC cable and supplies.
Features of the Philips DreamStation Go™ travel CPAP machine
In April, Philips launched the much-anticipated DreamStation Go™ especially targeting those people who are frequent travelers who don't want to miss out on the benefits of regular CPAP therapy. The new DreamStation Go, like the AirMini™ packs exceptional quality and performance into a very small device weighing only 1.86 pounds. The DreamStation Go is slightly larger due to the elimination of the power block which is built into the unit. Also, the DreamStation Go has an optional integrated lithium ion battery which can provide up to two days of use without recharging. An optional integrated humidifier is scheduled for later this year. DreamStation Go comes in two models (a fixed pressure and an Auto pressure unit) and is fully FAA approved.
Feature Comparison of the AirMini™ and the DreamStationGo™
There are very clear differences between the AirMini and DreamStation Go. It is important to understand these differences and make a choice based on what is most appealing to personal preferences. As mentioned, TheCPAPShop.com website has several buying selection tools available to easily compare the two newest arrivals into the travel CPAP market with other, older devices. Moreover, our customer service staff is well versed on the attributes of each unit and can identify the most suitable for the situation. For more information on both the AirMini™ and the DreamStationGo™ please visit TheCPAPShop.com website.
About ResMed
ResMed focuses on designing and manufacturing medical devices to manage sleep apnea, chronic obstructive pulmonary disease (COPD) and other chronic diseases. Their award-winning devices and cutting-edge software applications have made them a global leader in connected care, with more than 3 million patients remotely monitored every day. ResMed believes that every breath is an opportunity to make a positive change in a person's life. The features of the new AirMini™ CPAP machine embodies this philosophy.
https://airmini.resmed.com/
About Philips Respironics
Philips Respironics is a global leader in the sleep and respiratory markets, dedicated to providing solutions that lead to healthier patients, practices, and businesses. The company is instrumental in innovative sleep apnea management, oxygen therapy, noninvasive ventilation, and respiratory drug delivery. Gaining insight into the needs of its customers drives its product design. Most recently Philips has introduced the "Dream Family" of sleep apnea treatment devices, which feature both comfort and ease of use. These products include the DreamWear masks, DreamStation machines, and the DreamMapper mobile app. The new DreamStation Go is the latest product to be released in the Dream Family of devices for sleep apnea treatment.
About Agile Medical, LLC
Agile Medical dba The CPAPShop.com offers quality CPAP and sleep aid products and excellent customer service to those suffering from sleep apnea. Our staff understands the necessary lifestyle changes required by CPAP therapy, and our goal is to make purchasing CPAP equipment and supplies as convenient and easy as possible. Agile Medical has been in operation since 2004, with over 150,000 satisfied customers.