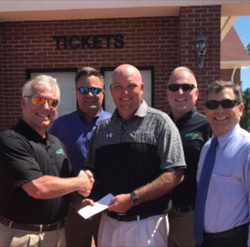 Chicago, Illinois (PRWEB) May 19, 2017
ServiceMaster Recovery Management (SRM) will sponsor the William Carey University Softball and Baseball teams through the 2019 season with signage along the outfield walls of the Joseph and Nancy Fail Field and Milton Wheeler Field. ServiceMaster Recovery Management will also be sponsoring the men's and women's basketball teams during the 2017-2018 season with signage in the Clinton Gym.  
Kim Brooks, CEO of DSI Holdings Corporation, said, "We are proud to be both associated with and sponsoring William Carey University Athletics. After the devastating tornado damaged the campus back in January 2017, ServiceMaster Recovery Management has worked alongside the University to help restore the campus as quickly as possible. We see ourselves as part of the community and partners with the university.  This athletic sponsorship shows our ongoing support to the University. Everyone on the ServiceMaster Recovery Management team has a lot of pride in the work we have done in Hattiesburg and will be cheering on the William Carey Crusaders for many years to come."
Jim Boccher, CMO of DSI Holdings Corporation, believes SRM and WCU's partnership is great for both parties. "It is always special to be able to align your sponsorship investments with the communities and clients you serve. We stood with the people of Hattiesburg in their time of need and we stand with them now. Even though our work is largely complete, the bonds we have built remain strong. This sponsorship is a reflection of that. We are proud to sponsor WCU athletics. Go Crusaders!"
The William Carey University baseball and softball teams are currently competing in the NAIA Championship tournaments. The WCU men's and women's basketball seasons begins in November.