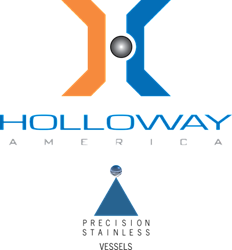 HOLLOWAY AMERICA, a leading manufacturer of smart tank technology and equipment for pharmaceutical and biotech companies, recently introduced The Revolution Lift™, a new user-friendly top head and manway lift system.
Springfield, Mo. (PRWEB) May 17, 2017
HOLLOWAY AMERICA, a leading manufacturer of stainless steel pressure vessels and equipment for varying industries, including food and dairy, munitions, and pharmaceutical/biotech, recently introduced The Revolution Lift™, a new precision-controlled head lift assembly that promotes optimal operator safety and ease of use. The improvement in technology comes on the heels of HOLLOWAY's release of the intelliVessel™, a smart tank that incorporates a digital control panel that provides operators with a precise, more seamless manufacturing experience.
About The Revolution Lift
Perfect for use with pharmaceutical stainless steel vessels and tanks (as well as a variety of other industry-specific applications), The Revolution Lift is a fully enclosed, hands-free electric lift assembly with customizable opening and closing speeds. The basic version of the lift has the ability to raise manway covers or removable heads up to 500 pounds; however, HOLLOWAY can customize the lift to accommodate even heavier manways. This lift assembly is designed to keep operators safe and limit safety liability for companies.
Increased Operator Safety and Usability
The Revolution Lift can be easily incorporated into digitally controlled smart tank technology as well as analog tank controls. To further increase operator safety, The Revolution Lift also prevents accidental closure with an automatic safety shutoff when an obstruction is detected. If so equipped, the system's agitator can be removed without uncoupling from the drive assembly and is available in either 120° or 360° rotations for cover swing operations.
"When creating The Revolution Lift, we recognized that tank and pressure vessel operators are faced with the age-old dilemmas of safely and easily opening and closing heavy manways or top heads," said HOLLOWAY AMERICA Director of Marketing Randy Colwell. "This new lift solves those problems and will increase the efficiency of any operations team."
About The intelliVessel™
In addition to The Revolution Lift, HOLLOWAY AMERICA designed, engineered, and fabricated the new intelliVessel™, another recent innovation in the tank and pressure vessel smart tank realm. It made its debut at INTERPHEX 2017, an annual pharmaceutical, biotechnology, and device exposition held in New York City.
The intelliVessel is a pressure vessel with an onboard Programmable Logic Controller (PLC) which can fully control and monitor numerous operations and process elements such as recipes, mixing, pressure, temperature, pH, DO, conductivity, levels, loads, and more. Important vessel-specific information such as e-versions of spare parts lists, manuals and drawings can be stored onboard, as well. Process operations can be monitored and controlled through its touch-screen panel, or remotely from a tablet or smartphone. If the vessel is equipped with the optional Revolution Liftô, its lid can also be opened or closed with just a few clicks on the touch-screen panel. The intelliVessel also features full emergency stop functionality and at-a-glance statuses for vessel fullness, weight and process completion.
For details about custom-engineered stainless steel vessels for the pharmaceutical and biotech industries or for more information about The Revolution Lift, contact Randy Colwell at 417.863.0077 or email info(at)hollowayamerica(dot)com.