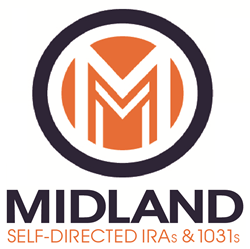 "Midland IRA and 1031 is dedicated to ensuring our clients' individual needs and goals are met to the best of our ability."
FORT MYERS, Fla. (PRWEB) May 22, 2017
Midland IRA is one of the top self-directed retirement plan administrators in America, serving clients who hold over $1 billion in assets in their accounts. Self-directed IRAs and other plans allow account owners the Freedom to Invest™ in alternative assets they know and understand.
As a qualified intermediary, the firm also assists real estate investors in deferring capital gains taxes on investment property by facilitating their use of a 1031 exchange.
The firm's corporate headquarters is in Ft. Myers, Florida, with a second location in Chicago, Illinois. Retirement plan clients invest in alternative assets that include real estate, private mortgages, futures and forex trading, hedge funds, private equity, and much more. Other clients earn personal income by using a 1031 exchange when buying and selling property for business or investment use.
As Midland IRA deploys their plan to accommodate rapid growth over the past year and continuing future endeavors, they are pleased to announce new hires in client services and IT departments. They are also continuing to grow the sales and marketing teams in both the Chicago and Ft. Myers locations. Additionally, the firm has refined its client services mission and model in order to provide unsurpassed professional and personal service in the retirement planning and investing industry.
President and CEO, Dave Owens says, "Midland IRA and 1031 is dedicated to ensuring our clients' individual needs and goals are met to the best of our ability. Our growth was anticipated and planned—and is successful because our staff is committed to excel in our areas of expertise."
Owens added that additional exciting announcements regarding Midland IRA's expansion are coming soon.
About Midland IRA
Midland IRA is a self-directed IRA administrator that provides service to clients who prefer to choose their own assets in their retirement plans. As a leader in the industry, the firm makes it easy to use self-directed retirement plans to invest in assets that the individual investor knows, understands, and can control. Midland IRA is also a 1031 exchange qualified intermediary with Certified Exchange Specialists® on staff to assist the unique needs of all investors.
Midland recently formed a trust company to better serve clients in fiduciary matters relevant to wealth and asset management. As such, Midland Trust Company is committed and proud to act in the best interest of each client to meet their individual goals.
To learn more visit www(dot)MidlandIRA(dot)com.