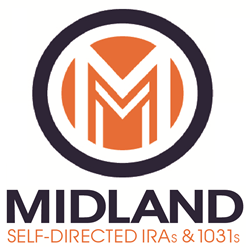 "Our purpose is to continue to build solid, long-lasting relationships with our clients to enable them to confidently make investing decisions to help them achieve their own financial goals."
FORT MYERS, Fla. (PRWEB) May 23, 2017
Midland IRA is one of the most elite self-directed retirement plan administrators in America, serving clients who hold over $1 billion in assets in their accounts. These plans allow account owners the Freedom to Invest™ in alternative assets they know and understand.
Clients of the firm enjoy the ability to use alternative investments to build wealth for retirement. These assets include private equity, real estate, hedge funds, forex, and other options besides the typical stock, bond or mutual fund offered by mainstream banks and brokers.
As a leader in their industry, the retirement plan company provides cutting-edge educational tools for clients and investors to learn about the power of self-directed investing. Midland IRA continually develops this complimentary education so their clients can stay one step ahead of the rest—and the firm also ensures their team members do, too.
The firm recently achieved growth and expansion goals as part of a continuing plan to better serve clients. Due to the success of this plan, the sales team has been restructured to accommodate growth and to implement continuing goals to achieve future milestones.
Midland IRA is pleased to announce this new hierarchy of valuable team members, who are sure to provide a positive impact in their departments.
Dan Hanlon as senior vice president has been appointed to assume the role of sales manager, as well. Hanlon's exceptional ability and vision to lead the sales team is highly anticipated and appreciated.
Doug Robertson is vice president and has happily accepted the responsibility of also overseeing the development of the institutional team. Robertson's expertise is integral to the success of the company in this area.
Brad Janitz continues his role as vice president in overseeing and further developing the futures investment team. His past success in this department over the past few years is a testament to his potential in achieving the company's goals.
Dave Owens, president and CEO of Midland IRA, says, "Our purpose is to continue to build solid, long-lasting relationships with our clients to enable them to confidently make investing decisions to help them achieve their own financial goals."
Owens believes the sales team he has in place is an essential element in the firm's commitment to helping clients reach their fullest potential when making retirement planning decisions.
About Midland IRA
Midland IRA is a self-directed IRA administrator that provides service to clients who prefer to choose their own assets in their retirement plans. As a leader in the industry, the firm makes it easy to use self-directed retirement plans to invest in assets that the individual investor knows, understands, and can control. Midland IRA is also a 1031 exchange qualified intermediary with Certified Exchange Specialists® on staff to assist the unique needs of all investors.
Midland recently formed a trust company to better serve clients in fiduciary matters relevant to wealth and asset management. As such, Midland Trust Company is committed and proud to act in the best interest of each client to meet their individual goals.
To learn more visit www(dot)MidlandIRA(dot)com.