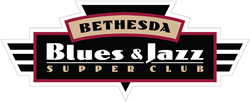 "An intimate, elegant, and acoustically superb setting." - DC Nitelife
Bethesda, MD (PRWEB) May 17, 2017
Rick Brown, Proprietor
Rick(at)bethesdabluesjazz(dot)com | 240.330.4500
The Bethesda Theater, listed on the National Register of Historic Places has become a 1st class Blues & Jazz Supper Club and an incredible resource for the community! However, the challenge is that the club competes in the marketplace with six venues within a short distance from the club and all are publicly funded or subsidized. Throughout the next 30 days, Bethesda Blues & Jazz Supper Club has launched an Indiegogo campaign to help keep the music playing at the 1938 Art Deco establishment.
The goal is to raise $240,000.00 through Indiegogo and we would like for supporters to help in this "Capital Campaign" drive. Every donation will keep the music alive and thriving! Goals for this campaign: 1. Upgrade the sound system 2. Create and implement a "Live Streaming " service 3. Help with the development of the BBJ Youth Orchestra 4. To fund ongoing operating expenses. Visit Campaign https://igg.me/at/bethesdablues
Since opening in 2013, Bethesda Blues & Jazz Supper Club has hosted over 900 artists, serving over 240,000 customers and held over 145 charitable and fundraising events. Artists such as Dionne Warwick, Chick Corea, Freddy Cole and The Count Basie Orchestra along with up & coming new stars such as Snarky Puppy, Joey Alexander, Judith Hill and Landau Murphy Jr have joined old school stars such as The Shirelles, The Spinners, Billy Ocean, & Rita Coolidge. R&B superstars such as Lalah Hathaway, Eric Roberson, Jon B., El Debarge, have all enjoyed entertaining their fans here. In addition to the stars, Bethesda Blues has also become an excellent resource for the community, hosting multiple charitable events, school fundraisers, Chamber events, food drives, etc. BBJ offers Wounded Warriors and their families' free admission to any show and veterans are entitled to 50% discount year round. We have hosted events for Big Brothers & Big Sisters, Boys & Girl Clubs, National Cancer Institute, Suburban Hospital, and local high school jazz orchestras.
One of our most fulfilling ventures is the creation of our BBJ Youth Orchestra. We open the club to young men and women, ages 11-17, every Monday after school, we provide tutors for them to get their homework done, we feed them a snack, and they begin their music practice. They are not only learning how to play but also the history and stories behind the Blues and Jazz!
About Bethesda Blues & Jazz Supper Club
Bethesda Blues and Jazz, housed in the historic 500-seat Bethesda Theater, is an intimate concert hall offering the best in live entertainment, food and drinks in the DMV. The venue has featured over 900 live acts during the last four years covering various genres including Jazz, Country, R&B, Blues, Comedy and an array of private events. Join us for a premier supper club experience to see your favorite musicians in an elegant and acoustically superb setting with access to great free parking. Come eat, drink and vibe at Bethesda Blues & Jazz.
For more information, tickets or general information, please visit http://www.bethesdabluesjazz.com or call 240.330.4500.
Campaign: https://igg.me/at/bethesdablues
Rick Brown, Proprietor
Rick(at)bethesdabluesjazz(dot)com or call (240) 330-3500
###