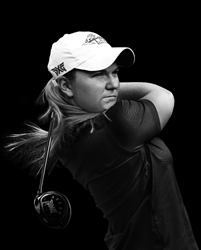 Scottsdale, Arizona (PRWEB) May 16, 2017
PXG today announced LPGA Tour professional Austin Ernst as the newest addition to its roster of champions.
Earnst has had PXG irons in play since mid-2016 – long before being offered an equipment deal. She has recorded three top ten finishes this season, including a second-place finish at the Kia Classic.
"PXG has made a huge impact on the LPGA Tour in the last year and I am ecstatic to now be an official member of the PXG Troops," Ernst said. "I've been making moves up the leaderboard this season, and I feel more confident than ever that I will reach the top with PXG clubs in my bag."
Since entering the market two years ago, PXG, founded by American entrepreneur and golf fanatic Bob Parsons, has incited a step change in the golf industry. Parsons has channeled his passion for golf into a project that bears little relation to the established big beasts of the equipment market. And golfers, from weekend warriors to tour professionals, have been quick to take note.
Parsons shared, "We're in a different business than the other manufactures. When it comes to product development, it doesn't matter how much we spend. It doesn't matter how long it takes or how many iterations. What matters is performance."
"When exceptional players like Austin hit our clubs and say 'wow', we know we have landed on something special," Parsons added. "I'm thrilled that Austin has already found success on tour using our equipment and look forward to counting her among our already stellar lineup of professionals."
PXG's professionals represent some of the very best talent on the PGA and LPGA Tours. Ernst will join current #PXGTroops James Hahn, Billy Horschel, Charles Howell III, Zach Johnson, Chris Kirk, Ryan Moore, Pat Perez, Charl Schwartzel, Christina Kim, Lydia Ko, Brittany Lang, Alison Lee, Ryann O'Toole, Sadena Parks, Gerina Piller and Beatriz Recari.
Ernst's first tournament as an official member of the #PXGTroops will be at the Kingsmill Championship in Williamsburg, Virginia.
To learn more about PXG's groundbreaking equipment and professional staff, visit http://www.PXG.com.
ABOUT PARSONS XTREME GOLF – PXG, A YAM WORLDWIDE COMPANY
Parsons Xtreme Golf (PXG) is based in Scottsdale, Arizona. The company was founded by Go Daddy founder, businessman and philanthropist Bob Parsons in 2014. Leveraging breakthrough technology and sophisticated manufacturing processes that integrate high-performance alloys, PXG produces the finest golf clubs in the world. The company has more than 100 global patents issued for its proprietary designs.
PXG clubs are currently being played on all three major U.S. Tours. PXG's professional staff includes PGA TOUR Champions Zach Johnson, Billy Horschel, Charl Schwartzel, Chris Kirk, Ryan Moore, James Hahn, Pat Perez, Charles Howell III and LPGA players Austin Ernst, Lydia Ko, Brittany Lang, Christina Kim, Gerina Piller, Alison Lee, Ryann O'Toole, Beatriz Recari and Sadena Parks.