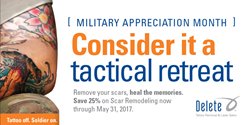 Phoenix, Arizona (PRWEB) May 17, 2017
In honor of National Military Appreciation Month this May, Delete Tattoo Removal & Laser Salon is offering a special 25% off military discounts on scar remodeling and tattoo removal treatments to all active duty, reservist, and veteran military personnel.
Understandably, scars left behind by wounds received in battle carry reminders of missions carried out over seas. As the citizens our military protects, we believe that it is our duty to do what we can to help soldiers and veterans remove and revitalize not just their physical bodies, but their souls as well.
When it comes to getting a tattoo, Delete knows it's a personal choice, as it is when removing a tattoo. With strict military policy surrounding tattoos, tattoo removal is often a need amongst Military personnel in order to expand career options.
For those who have chosen to retire from Military service and move on in a different direction, scars may be a badge of honor, or for some it may invoke trauma based memories and may even evoke PTSD. To help minimize psychological and physical scars, Delete offers two methods of treatment, the first being our new PicoWay Resolve™ holographic laser treatment and the second our traditional Collagen Induction Therapy (CIT), Microneedeling treatment.
Delete's board certified medical professionals are experts in pain management and offer injectable or topical numbing, so that all treatments are essentially pain-free. During Military Appreciation Month, Delete is also offering free numbing to those taking advantage of this special offer. Delete salutes and appreciates the sacrifices of those who have served honorably and fought for the safety of our country.
About Delete Tattoo Removal & Laser Salon
Delete Tattoo Removal and Laser Salon in Phoenix utilizes the latest in state-of-the-art laser technology and a trained team of certified physicians housed in a sleek, comfortable environment. Delete provides both men and women a convenient and affordable solution for tattoo removal, aesthetic services, and laser hair removal. Delete offers fixed price packages as well as payment plans and financing options. To learn more about the salon, call 855-2DELETE or visit Facebook.com/DeleteTattoo and @DeleteTattoo on Instagram.
###
FOR IMMEDIATE RELEASE
Media Contact:
Sarah Bettencourt
602-343-6355
sarah(at)deleteitnow(dot)com