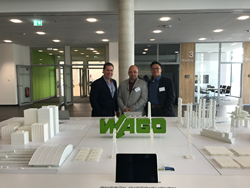 WAGO Plant Tour
Houston, Texas (PRWEB) May 17, 2017
Representatives from Custom Air Products & Services, Inc. (CAPS), a leading commercial and industrial heating, ventilation and air conditioning (HVAC) company based in Houston, Texas (US), recently attended "Hannover Messe 2017," the world's leading trade fair for industrial technology in Hannover, Germany. Products and technologies explored at the 2017 show, with the theme of "Integrated Industry – Creating Value," will bring value and encourage innovation for future CAPS product lines.
Custom Air products & Services, Inc. (CAPS) one of the largest custom HVAC Manufacturers in North America with over 40 years of experience specializing in the design, construction, installation, modification, and servicing of industrial, commercial and offshore HVAC equipment was among a group of US companies invited to attend Hannover Messe 2017, by WAGO Corporation. As an innovative electrical supplier to CAPS, WAGO Corporation is an industry leader in electrical interconnect and automation solutions, with headquarters in Minden, Germany.
"This opportunity to explore leading edge technologies works well with our own dedication to provide innovation in our exceptional custom designs and products and works toward solidifying CAPS' global footprint in the HVAC industry," commented CAPS CEO Taylor Norris.
Among the 225,000 attendees, CAPS was represented by John Phan, Engineering Manager and Robert Martin, Electrical Manager, both of whom share an impressive commitment to innovation within the HVAC industry. CAPS continues to roll out new designs annually and at the helm of the design innovation drive is John Phan seeking innovative solutions from all parts of the globe. "As CAPS continues to lead the HVAC manufacturing industry, we continue to explore new and valuable solutions for future products. Whether in finding valuable solution suppliers, discovering ways to implement new technologies, or locating more reliable and innovative components, one thing we are sure of is that technology will continue to be a part of our custom products," noted Phan. CAPS' platform for quality and innovation is a cultural commitment that is built into every one of the thousands of HVAC units delivered each year.
About Custom Air Products & Services
Custom Air Products & Services, Inc. is a full-service HVAC company that specializes in the design, construction, installation, modification, and servicing of industrial and commercial HVAC equipment. CAPS employees are committed to providing exceptional custom design and quality workmanship at competitive prices.
Custom Air Products & Services currently occupies six (6) modern facilities, totaling 300,000 square feet in manufacturing facilities. These buildings include manufacturing, fabrication and modifications, paint booths, a parts warehouse, engineering offices and a training facility. CAPS products and services are provided to customers throughout the United States and abroad with manufactured equipment operating on six (6) continents and in (52) countries.