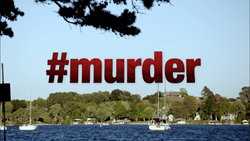 "Social media can be a blessing, but it can also be a curse." Tia Smith, TV One Sr. Director of Programming
Silver Spring, MD (PRWEB) May 16, 2017
TV One's popular True Crime Monday line-up will include a new show that explores crimes with a deadly connection to technology and social media when it premieres #Murder on Monday, June 5, 2017 at 10 p.m. ET.
"#Murder is a great addition to TV One's True Crime Monday line-up because it reflects the intricate changes that are occurring in our society with the introduction of new technologies," said Tia Smith, Sr. Director, Programming at TV One and #Murder's Executive in Charge of Production. "Social media can be a blessing, but it can also be a curse. In this series, we present real life situations where use of the Internet and various social media platforms were used to commit unspeakable crimes along with being a substantial tool to solve them."
Crime goes viral in this cutting-edge investigative series that examines crime with a deadly connection to technology and social media. Whether the killer met the victim online, posted incriminating details on his Facebook page, or the cops used social media to hunt down the perpetrator, each episode of #Murder examines how homicide - like everything else in this day and age – has gone digital.
The premiere episode of #Murder tells the story of 14-year-old Shaniesha Forbes, a typical American teenager from Brooklyn, N.Y. If she wasn't hanging out with family or friends, she was busy scrolling through Facebook, planning her next event on her busy social calendar. But when Forbes failed to come home from school or answer her phone in January of 2013, her mother knew something was terribly wrong. To find out what happened, detectives would have to dig into her online profile to see who would want to hurt this beautiful teen. Along the way, their search for the truth will reveal every parent's worst nightmare, and show a far more sinister side of social media.
#Murder is produced for TV One by Jupiter Entertainment with Todd Moss as co-executive producer and Robert Twilley and Harrison Land as executives in charge of production. Lamar Chase serves as Producer and Director of Programming; Tia A. Smith is Executive in Charge of Production and Sr. Director of Original Programming and Production; and D'Angela Proctor is Head of Original Programming and Production for TV One.
For more information about TV One's programming, visit the network's companion website at http://www.tvone.tv. TV One viewers can also join the conversation by connecting via social media on Twitter, Instagram and Facebook (@tvonetv) using the hashtag #MURDER and catch clips and promos on TV One's YouTube Channel.