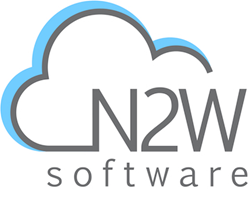 Our integration and collaboration with Veeam delivers truly accessible hybrid cloud infrastructures.
West Palm Beach, Florida and VeeamON, New Orleans (PRWEB) May 17, 2017
N2W Software has announced a new partnership with Veeam® Software, the innovative provider of solutions that deliver Availability for the Always-On Enterprise™, with the new Veeam® Availability Suite for AWS that will deliver the industry's first comprehensive, agentless data protection and availability solution for AWS applications and data. The collaboration with Veeam empowers enterprises to reliably move to and manage a true hybrid cloud architecture.
At the center of the offering is N2W's Cloud Protection Manager, which protects customers' AWS environments. The N2W/Veeam integration will enable those customers to copy data from AWS to a Veeam repository for a hybrid approach to operational backup and cross-platform disaster recovery.
"There is a growing focus on hybrid architecture, however enterprises need to be able to ensure the integrity of their data within these environments," said Jason Judge, CEO of at N2W Software. "Our integration and collaboration with Veeam delivers truly accessible hybrid cloud infrastructures."
"Today's users are demanding – period. Enterprises are having to re-think their IT strategies and service models, and Availability is of paramount importance," said Peter McKay, co-CEO and President at Veeam. "As enterprises move to the cloud, Veeam and N2W are ensuring availability of services, applications and data in multi-cloud and hybrid-cloud environments. We are once again pioneering the market, and delivering a wide array of new capabilities to our customers."
N2W Software is currently attending VeeamON as a Silver sponsor and showcasing Cloud Protection Manager (CPM), an operational backup solution purpose-built for Amazon Web Services. CPM is an enterprise-class backup, recovery, and disaster recovery for AWS EC2 environments. Offering flexible, automated, and application-consistent backup, as well as rapid 1-click recovery; CPM exceeds industry established SLAs for both Recovery Point and Recovery Time Objectives (RPO and RTO).
(ENDS)
ABOUT N2W SOFTWARE
N2W Software was founded in 2012 with the mission of providing enterprise-class data protection for production environments deployed in the public cloud. Cloud Protection Manager (CPM) from N2W Software was designed and built from the ground up to meet the backup and DR requirements of the most demanding customers migrating to the public cloud. CPM is now the leading enterprise-class backup, recovery, and disaster recovery solution specifically optimized for Amazon's AWS EC2 infrastructure. Learn more at http://www.n2ws.com.
N2W Software is seeking motivated marketing, sales and development talent looking for a career in an exciting growth stage startup focused on products and services for the rapidly expanding public cloud. Visit http://www.n2ws.com/careers for more information.
ABOUT CLOUD PROTECTION MANAGER
Cloud Protection Manager from N2W Software enables rapid recovery of Amazon Web Services (AWS) EC2 instances, including all volumes and configurations, with just a simple mouse click. Cloud Protection Manager can also instantly recover EC2 instances to other AWS regions or AWS accounts, ensuring a simple and reliable disaster recovery plan.
For more information, to request a demo, or try Cloud Protection Manager (CPM) for free, visit http://www.n2ws.com.
ABOUT VEEAM SOFTWARE
Veeam® recognizes the new challenges companies across the globe face in enabling the Always-On Enterprise™, a business that must operate 24.7.365. To address this, Veeam has pioneered a new market of Availability for the Always-On Enterprise™ by helping organizations meet recovery time and point objectives (RTPO™) of less than 15 minutes for all applications and data, through a fundamentally new kind of solution that delivers high-speed recovery, data loss avoidance, verified recoverability, leveraged data and complete visibility. Veeam Availability Suite™, which includes Veeam Backup & Replication™, leverages virtualization, storage, and cloud technologies that enable the modern data center to help organizations save time, mitigate risks, and dramatically reduce capital and operational costs, while always supporting the current and future business goals of Veeam customers.
Founded in 2006, Veeam currently has 47,000 ProPartners and more than 242,000 customers worldwide. Veeam's global headquarters are located in Baar, Switzerland, and the company has offices throughout the world. To learn more, visit https://www.veeam.com.
PR Contact
Email: press(at)n2ws(dot)com or call +1 561-225-2474