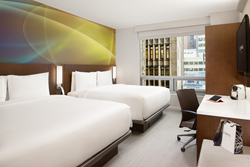 Our linen investment and our guests are very important to us, so it is important for us to know our daily inventory levels and laundry activity
Los Angeles, CA (PRWEB) May 16, 2017
InvoTech Systems, Inc. announces its new system installation at LUMA Hotel Times Square, recently opened in Times Square, New York. InvoTech Systems, Inc. increases profitability for clients by providing systems for efficient operations. InvoTech is a leading provider of software management and control systems for uniforms and linens, and laundry operations. Click here for more information on InvoTech Systems.
LUMA Hotel Times Square uses the InvoTech RFID Linen System to manage their high-quality guestroom linens. The hotel has approximately 15,000 linen items for the 130 well-appointed guestrooms. The hotel will use a RFID Laundry Cart Reading Station with an easy-to-use touch screen monitor that instantly identifies and counts linens in laundry carts. The system functionality allows LUMA Hotel Times Square to automatically track linens to and from the laundry. This eliminates the daily task of physically separating the different types of linens and then hand-counting and manually-recording. LUMA Hotel Times Square uses Portable Handheld RFID Readers with InvoTech Mobile Software will be used to maintain the linen storerooms at optimum inventory levels.
"The InvoTech Linen System allowed us to take control of our linen inventory and account for every high-value item when delivered by the linen provider at our warehouse. Our linen investment and our guests are very important to us, so it is important for us to know our daily inventory levels and laundry activity" said Kate Martin, General Manager at LUMA Hotel Times Square.
LUMA Hotel Times Square benefits from InvoTech's extensive experience implementing their Linen System for hotel grand openings. InvoTech ensures that all of the linens are accounted for and tracked from day one. InvoTech coordinates for the linens to be delivered with a washable RFID tag already inserted into each piece. InvoTech's onsite installation and training services are provided for the staff so that clients obtain the maximum ongoing cost saving benefits.
InvoTech's clients include Madison Square Garden, Universal Studios Hollywood and Florida, MGM Resorts International, Ritz Carlton, Hyatt Hotels, Marriott, Hilton Hotels, Loews Hotels, Mandarin Oriental, and the Empire State Building. International clients include LEGOLAND Dubai, Venetian Macau; MGM Macau; MGM Cotai; Park Hyatt Sydney, Australia; Perth Arena, Australia; Four Seasons Hotel Seoul, Korea; Resorts World Sentosa, Singapore; Systematic Laundry, Singapore; Genting Malaysia; and Palace Resorts and Palace Laundry, Mexico.
About LUMA Hotel Times Square
LUMA Hotel Times Square is located on 41st Street between Broadway and Avenue of the Americas in the heart of New York City. Bright, innovative and inviting, LUMA shines a light on the best of modern hospitality and illuminates guests with dynamic energy and an independent spirit. Designed by New York architect Peter Poon, the hotel boasts 130 well-appointed guest rooms with floor-to-ceiling windows for enjoying natural light and taking in views of Manhattan. Reflecting the ambition and allure of the city, the hotel is ideally situated amongst developing tech firms, and international fashion houses, as well as steps away from New York City landmarks and attractions. LUMA's ground floor houses acclaimed, James Beard Award-winning Chef Jose Garces' new restaurant Ortzi, taking its name from the Basque word for sky and inspired by the region's great tradition of tapas. For more information, please visit http://www.lumahotels.com.
About InvoTech Systems
InvoTech Systems, Inc. increases profitability for clients. It is a leading provider of software management and control systems for uniforms and linens, and for laundry and security operations. Served markets include hospitality, healthcare, cleanroom, commercial laundry, and amusement industries worldwide. InvoTech products deliver vital information that establishes ultimate control and total accountability. InvoTech solutions are reliable and easy to use. They streamline operations and improve service levels with reduced labor and operating expenses. InvoTech provides 100% of its system support and product development in-house. The firm's trusted staff averages 10 years of reliable technical experience, knowledge of methodologies, and industry depth. InvoTech is a Microsoft Certified Partner that evolves technology-based solutions regularly based on client- and staff-driven innovations. The company is rooted in a culture that emphasizes long-term client relationships and superior customer service. For more information, please visit http://www.InvoTech.com.
CONTACTS:
InvoTech Systems, Inc.
Oswald Lares, Director of Sales & Marketing
20951 Burbank Blvd. Suite B
Woodland Hills, CA 91367 USA
Phone: 818-574-7795
Email: Sales(at)InvoTech(dot)com
http://www.InvoTech.com