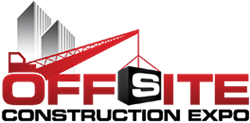 "[The Offsite Construction Expo is] a very focused expo for modular offsite construction technologies" - Attendee
Vancouver, BC (PRWEB) May 18, 2017
Registration is now open for the 2017 Offsite Construction Expo – Vancouver. With the steady adoption of offsite construction methods across North America, the Offsite Construction Expo will now hold multiple regional shows in Vancouver, British Columbia; Philadelphia, Pennsylvania; and Dallas, Texas throughout 2017.
Last year's expo in Washington, DC registered more than 700 qualified attendees including architects, engineers, developers, owners, and contractors. There is simply no greater opportunity to reach key partners in the offsite construction industry.
Each regional expo will offer a focused presentation of the abilities of offsite construction across all markets. Attendees and exhibitors alike will benefit from the variety of modular vendors and component suppliers all in one room.
The event is only $190 for qualified attendees and $1,500 for non-qualified attendees. Qualified attendees include developers, architects, engineers, traditional contractors, government agencies, schools, and universities. Qualified attendees are individuals not engaged in the business of offsite construction, nor are qualified attendees suppliers of building materials or products.
The expo features exhibits of offsite construction processes. The offsite construction sector consists of four main categories: panelized, modular/volumetric, hybrid, and sub-assembles/components that can improve construction processes. These systems and processes are ideal for the following markets: education, healthcare, hospitality, retail, multifamily, and office.
Exhibitors include offsite construction contractors, traditional contractors that have integrated offsite methods, offsite factories, transportation companies, BIM suppliers, materials suppliers, and consultants of all types of offsite construction processes. Exhibitor positions are limited and selling quickly.
The 2017 Offsite Construction Expo – Vancouver hosts and supporters include the Modular Building Institute and Canada BIM Council. More information and registration available at http://www.offsiteconstructionexpo.com.