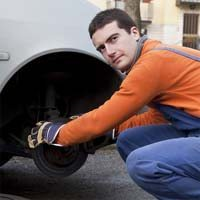 ...high doses during the first years and low doses thereafter were at higher risk of pleural mesothelioma..."
Raleigh, NC (PRWEB) May 17, 2017
Environmental health researchers in Bordeaux, France say their new evaluation on the timing of asbestos exposure and mesothelioma risk finds that the younger a person is at first exposure, the more likely they are to develop malignant mesothelioma. Surviving Mesothelioma has more on the website. Click here to read the full article.
University of Bordeaux scientists used a job exposure matrix to determine that exposure in younger workers is even more dangerous when it comes to pleural mesothelioma development. that later exposure.
"Due to much stronger weights of early doses of asbestos exposure, subjects who accumulated 20 fibres/mL over the entire job history with high doses during the first years and low doses thereafter were at higher risk of pleural mesothelioma than those who accumulated most of the doses later," writes lead study author Aude Lacourt.
The report in the journal Occupational and Environmental Medicine is based on an evaluation of the cases of 1,196 male asbestos workers and 2,369 men of the same age who had never been exposed.
"We have all heard cases of people who developed mesothelioma decades later after being exposed just briefly as a teenager," says Alex Strauss, Managing Editor for Surviving Mesothelioma. "Then there are cases of long-time asbestos workers who never develop mesothelioma. These report is a reminder of the potential importance of timing, which is often overlooked."
To read more about the French study and the potential impact of asbestos exposure timing on mesothelioma development, see Mesothelioma Risk and the Timing of Asbestos Exposure, now available on the Surviving Mesothelioma website.
Lacourt, A, et al, "Dose-time-response association between occupational asbestos exposure and pleural mesothelioma", May 13, 2017, Occupational and Environmental Medicine, Epub ahead of print, https://www.ncbi.nlm.nih.gov/pubmed/28501798
For more than a decade, Surviving Mesothelioma has brought readers the most important and ground-breaking news on the causes, diagnosis and treatment of mesothelioma. All Surviving Mesothelioma news is gathered and reported directly from the peer-reviewed medical literature. Written for patients and their loved ones, Surviving Mesothelioma news helps families make more informed decisions.