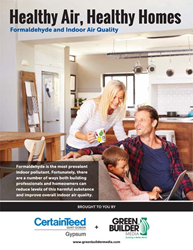 Lake City, Colo. (PRWEB) May 18, 2017
Green Builder Media announces the release of its latest free ebook: "Healthy Air, Healthy Homes." Download it here: http://www.greenbuildermedia.com/download-your-free-copy-of-healthy-air-healthy-homes
Good indoor air quality, or IAQ, is a hot topic these days, particularly considering people spend 90 percent of their time indoors. Consider these stats:

There is overwhelming evidence to suggest that IAQ is a top concern for homebuyers. In fact, a study by BCC Research found that the IAQ market in 2013 was $7.7 billion and is expected to grow to $11.4 billion by 2019.
A report published by UL Environment found that 83 percent of respondents polled had recently purchased green products; 42 percent listed IAQ as a primary concern.
According to the EPA, levels of indoor air pollutants are two to five times higher than outdoor levels. In fact, studies show that poor indoor air quality is responsible for 14 times as many deaths as outside air pollution.
One in five adults has an allergy to indoor air particles and one in seven children has asthma.
"Fortunately, there are many simple ways to improve IAQ, both during construction and once the home is occupied," says Green Builder Editor-in-Chief Matt Power. "Some of these strategies specifically target formaldehyde, one of the most prevalent toxic indoor air pollutants found in homes today."
This quick-read book answers important questions, such as:
What is formaldehyde?
How does it get into homes?
How do you build a healthy home from the ground up?
How do you improve Indoor Air Quality
In addition, the book offers five strategies for healthier homes and seven tips for building and remodeling projects. Plus, it showcases an innovative drywall product called AirRenew, which actually captures formaldehyde molecules and converts them to inert compounds.
"AirRenew drywall is a great product for the home because it provides an effective, non-mechanical solution to deliver optimum IAQ and contribute to a healthy indoor living space in an increasingly health-conscious market," says Tom Prokop, Innovation and Product Manager of CertainTeed Gypsum.
Download the book here http://www.greenbuildermedia.com/download-your-free-copy-of-healthy-air-healthy-homes and check out our library of building science and green home ebooks here http://www.greenbuildermedia.com/ebooks
Contact Cati O'Keefe at cati.okeefe(at)greenbuildermedia(dot)com for more information.
About
Green Builder® Media, LLC is the leading media company in the North American residential building industry focused exclusively on green building and responsible growth. With a comprehensive suite of print media, online options, demonstration homes, case studies, training and education vehicles, and live events, Green Builder Media assists building professionals prepare themselves for the new green economy. Visit us at http://www.greenbuildermedia.com