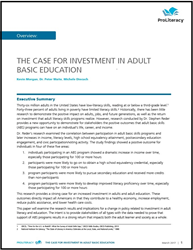 Only 36 percent of our programs report operating with any state or federal funding – the lowest ever reported in our nine years.
Syracuse, NY (PRWEB) May 17, 2017
36 million American adults function at low literacy levels and need the help of adult education programs that focus on their unique needs. Each year, ProLiteracy surveys its 1,000 member programs across the country. The data collected is used to measure the impact that program services have on adult literacy statistics, and to determine trends in the field.
The latest survey shows an ongoing decline in the percentage of adult literacy programs that receive federal and/or state funding. Just 36 percent of programs reported receiving any kind of government funding in 2016, down 10 percentage points just in the last six years. While government funding has decreased, demand for services is up. ProLiteracy members served 222,397 students during the 2015/2016 fiscal year, but 67 percent of programs reported having waiting lists.
Kevin Morgan, president and CEO of ProLiteracy, said, "Our members are community-based organizations that are doing more with less. Only 36 percent of our programs report operating with any state or federal funding – the lowest ever reported in our nine years of surveying ProLiteracy members. Despite declines in funding, demand for adult education services has increased substantially. Federal, state, and local governments have to realize that increased funding for adult education has a positive return on investment for a multitude of social issues, including job creation, economic development, crime rates, and K-12 test scores."
The ProLiteracy survey shows that approximately 16,300 students reported obtaining a job or a better job last year as a result of increasing literacy skills.
"ProLiteracy recently released a white paper on research by Dr. Stephen Reder called The Case for Investment in Adult Basic Education. Reder's research proves the correlation between participation in adult basic skills programs and future increases in income, literacy levels, high school equivalency attainment, and postsecondary engagement," Morgan said. "This impact measurement is important to our organizational mission, as it shows a positive return on investment in adult literacy programs."
###
About ProLiteracy
ProLiteracy believes every adult has the right to literacy. ProLiteracy, the largest adult literacy and basic education membership organization in the nation, is committed to creating a world in which all adults are literate. ProLiteracy has 1,000 member programs in all 50 states and the District of Columbia and works with 52 nongovernmental organizations in 34 developing countries. ProLiteracy develops educational programs that help adults acquire the literacy practices and skills they need to function more effectively in their daily lives with reading, writing, and basic math skills, as well as financial, digital, and health literacy. For more information about ProLiteracy, please visit http://www.proliteracy.org.