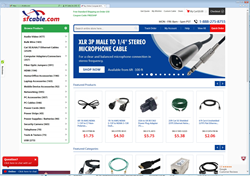 Be fiercely innovative, and embrace change; the attitude echoes the time, effort, resources and dedication of your craft. I work to embody this reflection.
Hayward, CA (PRWEB) May 23, 2017
SF Cable, Inc announced its latest upgrade, a complete and entirely secured web experience across its entire domain enabling customers to experience a one-of-a-kind protected platform. This marks it as a radical change from its prior security measures which regulated strict safeguarding at the 'checkout' session solely instead of across all web pages.
The company has partnered with McAfee SECURE and TrustedSite mechanisms and effectively provide the safest e-commerce platform for its many consumers. It is a noteworthy development, particularly in light of 90% of e-commerce domains paling in comparison as they are offering protection at the 'checkout' pages only. In light of this latest development, SF Cable offers its customers an exclusively safe and comfortable platform to make their online purchases, capitalizing on providing exemplary security and protecting their identity up to $100k via the McAfee partnership.
SF Cable remains unrivaled on another significant front as well; the company pays tantamount weightage to customer reviews and feedback making it a top priority concern. The company has facilitated Google customer reviews on their domain so as to make a more open, convenient and interactive purchasing process. This ensures a healthy relationship with the consumers, and paves the way for self-improvement via customer feedback.
Founded in 2002, SF Cable is among the best quality, leading online ventures in providing a wide range of cables, components, and all accessories designed at the most accommodating prices in a hassle-free manner, with a careful and quick delivery system coupled with a strong emphasis on customer satisfaction.