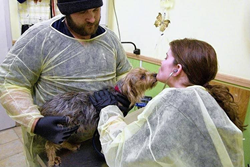 The BAMM! platform is a great way to make an impact during Save-A-Pet's 45th Anniversary.
Chicago, IL (PRWEB) May 17, 2017
BAMM!, the next-generation travel and meeting management platform, today announced with Save-A-Pet, an affinity program designed to raise funding for the animals in Save-A-Pet's care. This program provides donors a unique and easy way to contribute to the Save-A-Pet cause in addition to regular donations. Using BAMM!'s unique web, iOS and Android based platform, donors travel for fun or business and a percentage of the proceeds go to fund animal welfare initiatives.
"We are incredibly excited to help support Save-A-Pet with this travel affinity program. While donors' regular gifts are critically important, the BAMM! affinity program enables them to give to the cause without changing any behavior. We are all going to travel, whether it's business, leisure, whatever the reason, now Save-A-Pet donors can travel for a great cause," said Kurt Johnson, CEO, BAMM!
"Save-A-Pet serves roughly 1,000 animals every year. The BAMM! platform is a great way to make an impact during the agency's 45th Anniversary. With help from people just like you, we have served over 62,000 animals and we will never stop. We hold true to our PURE no-kill mission and depend on the benevolence of donors and partners like BAMM to get it done," said David Diaz, Development Manager, Save-A-Pet.
BAMM! helps non-profits grow their contributions through affinity programs, enterprises receive the best market pricing for travel, and busy individuals have the most productive meetings and travel possible. Integrations with Priceline and Uber ensure that nearly all aspects of personal and professional travel are enabled; integration with Uber Conference ensures that users can go virtual if they are late, and integration with Outlook and Gmail mean that users do not have to change behavior to reap BAMM!'s productivity benefits.
Companies and users can:

Book rental cars, hotels and air travel via the web, iPhone, or Android apps
Schedule and monitor meetings and events
Understand if people are going to be late, and reach out individually to participants, and instantly set up a conference bridge or easily reschedule
About BAMM! (Before and After Meeting Manager)
Founded in 2014 in Chicago, IL, BAMM! is the next generation travel and meeting management platform, and is uniquely positioned to offer affinity and travel programs to non-profits and enterprises. As a member of the Priceline Partnership Network, BAMM! has access to over 900,000 hotels worldwide, over 18 rental car brands in 180 countries, and 220+ airlines, and gets travelers where they need to be, at the best prices. BAMM!'s smart apps for Web, iPhone and Android take the stress out of meetings and meeting management and ensure that users are on time or able to be productive regardless of schedule changes. Integrations with Priceline, Uber, Uber Conference, Outlook, Gmail, combine with BAMM!'s proprietary AI to create an effortless travel and meeting experience. https://www.getbamm.com
About Save-A-Pet
Save-A-Pet is a 501(c)3 nonprofit organization and one of the largest no-kill cat and dog rescues in Lake County, IL, that operates a full-time adoption center. We provide a safe haven for abused, neglected, injured, lost, or animals that have escaped euthanasia. We will never put a limit on the amount of care we will provide for an animal and we never give up on them. Thus, Save-A-Pet offers rescued dogs and cats the greatest opportunity for a second chance. We take great pride in practicing our no-kill mission and in stewarding our donors' contributions; both of which have led to the successful adoption of over 62,000 dogs and cats.
BAMM! When and Where Effortlessly is a registered trademark of DESTN8,LLC. All other trademarks are the property of their respective owners.