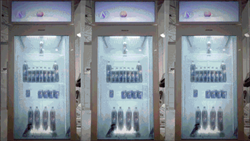 Go Beyond the Glass.
New York, NY (PRWEB) May 18, 2017
Emotive Digital has launched an exciting new line of interactive transparent refrigerators with the installation of the first wave of units in multiple locations around New York. These interactive refrigerators create an advertising network which will revolutionize the way we market to customers.
The first line of interactive transparent display refrigerators have been installed at key retailers around New York City. These locations include Key Food, Super Fresh, Fine Fare and C-Town Supermarkets. Each store will now feature Emotive Digital's unique platform, creating an enhanced experience for customers at these locations.
Traditional marketing places a heavy reliance on print, television, and broadcast advertising, which is usually received by customers either in their homes or while in transit. However, research shows that most purchasing decisions (92%) are made in store and on impulse. Until recently, this left a large gap between marketing effort and actual purchase.
Emotive Digital, however, aims to remedy that. Their new technology places the moment of influence right there in store, via the company's interactive transparent refrigerator network. Through transparent LCD and LED technology, Emotive Digital creates an engaging experience for customers at a critical point; the point of sale.
The platform's transparent screens engage customers on every level. In addition to stunning graphics and imagery, the refrigerators will also use sound and touch. Customers will be able to engage with the refrigerators in order to find more information.
However, the truly unique quality about these platforms are their ability to network and connect through social media. This takes marketing to a new level of engagement. Emotive Digital's interactive refrigerators will use facial recognition software in conjunction with various sensors in order to deliver a unique multi-sensory and customized advertising experience.
Data Driven PoS Marketing
Advertising and marketing has changed dramatically in recent years. The "one size fits all" approach is gone, and in its place is intelligent communication of marketing messages to specific consumer groups.
Increasingly, savvy marketers have been able to capitalize on data-driven advertising, using the internet both as a platform for advertising placement, and as a data resource. However, there remains a gap between the instance of customer engagement and point of sale.
Emotive Digital is committed to closing that gap, and ushering in a new era of data driven, point of sale marketing.
With Emotive Digital's new line of interactive transparent refrigerators, customized advertising is delivered at the point of sale. In this sense, advertising trends have transitioned from globalization to personalization. As the customer interacts with these new refrigerators, they are provided with relevant content and targeted material designed specifically for each unique individual.
Through this approach, Emotive Digital is able to help brands tell their story more effectively. Advertising campaigns will become targeted and tailored to each user, resulting in increase in sales. Past case studies and field test trials indicated that Emotive Digital's devices were able to yield three digit sales increases.
Recently, Emotive Digital collaborated with PepsiCo on their campaign during Super Bowl 50. During the course of this campaign, Emotive Digital's interactive transparent display refrigerators were able to produce a significant sales increase. This indicates that the new technology is able to yield notable results even for well established brands and product lines.
Emotive Digital is a Silicon Valley based startup company. The company focuses on retail advertising, especially at the point of sale. They use innovative and diverse technology to enhance customer experience and influence purchasing decisions, particularly those too often neglected impulse decisions.
For more information, contact Emotive Digital at:
3123 Independence Drive
Livermore, CA 94551
Or call: 408.568.0945
Their website can be found at http://www.emotivev.com