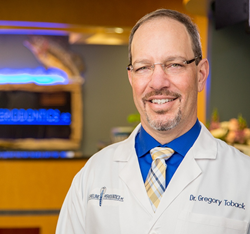 We're always focused on what's going to give the best long-term predictability.
Westerly, CT (PRWEB) May 16, 2017
Dr. Gregory Toback published a recent study in the Compendium of Continuing Education in Dentistry on the effectiveness of immediate load, or same-day, dental implants. Dr. Toback, who practices as a periodontist in Westerly, RI, specializes in implant dentistry and periodontal treatments. Through this study, along with eight other board-certified periodontists, Dr. Toback evaluated the health and aesthetic benefits of immediately placing and restoring dental implants.
With over 178 million Americans missing at least one tooth, According to the American College of Prosthodontists, tooth loss is ever prevalent in the United States. Now the gold standard in tooth replacement solutions, dental implants are frequently preferred by clinicians and patients for their natural appearance, reliability and convenience.
Dr. Toback, and his associates, offer same-day dental implants in which they are able to further the convenience of implants by immediately placing and restoring them, eliminating the need for patients to use temporary, removable restorations. Evaluating 35 patients over nine different private practices across the U.S., this study examined the clinical measures of health and success of this long-term cosmetic treatment. The team's goal: to determine if immediately placed and restored implants in the cosmetic area of the mouth can be predictably accurate and successful.
The study found that not only were immediate load implants highly successful, but patients showed a high level of satisfaction with their treatment as well. By measuring the functional and aesthetic outcomes, Dr. Toback, and the team of periodontists involved, were able to determine the essential benefits of treatment and achieve a 93 percent implant success rate.
Dr. Toback and his team are dedicated to offering the latest techniques, applying modern research and using cutting-edge technology at his practice, Shoreline Periodontics. "We're always focused on what's going to give the best long-term predictability," said Dr. Toback. Using 3D imaging technology to offer Teeth-in-a-Day™ guided implant surgery, Dr. Toback also offers tooth extractions and bone grafting for comprehensive treatment.
To learn more about the benefits of immediate load dental implants or the periodontal services Dr. Toback offers, visit http://www.shorelineperio.com or call the Westerly, RI office at 401-622-4661 or the New London, RI location at 860-333-1531.
About the Doctor
Shoreline Periodontics is a periodontal practice offering personalized dental care for patients since 1998 and is located in New London, CT and Westerly, RI. Leading board-certified periodontist, Dr. Gregory A. Toback, received his B.A. from St. John's University and his Doctorate of Dental Medicine from the University of Connecticut. He also received advanced training in periodontics and dental implants at the University of Texas Health Science Center in San Antonio. Dr. Toback focuses on minimally invasive surgeries, offering the LANAP® protocol and belongs to a small group of dental professionals currently providing the Chao Pinhole Surgical Technique™ for treatment of gum recession. Dr. Marianne Urbanski has been voted one of Connecticut's top dentists for more than seven years by Connecticut Magazine. Dr. Urbanski graduated cum laude from the College of Holy Cross in Worcester, Massachusetts where she earned a Bachelors' degree in Biology. She also received her Doctor of Dental Medicine degree and her Masters' of Dental Science degree from the University of Connecticut Dental School. Dr. Urbanski prides herself on offering caring, professional care to each patient. To learn more about Shoreline Periodontics and their dental services visit their website at http://www.shorelineperio.com or call 860-333-1531 for the New London, CT location, or 401-622-4661 for the Westerly, RI office.