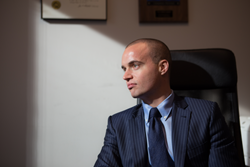 I am thrilled and humbled to be accepted into this elite group of trial lawyers.
Philadelphia, PA (PRWEB) May 18, 2017
Mark Copoulos was selected for inclusion into its Top 100 Criminal Defense Attorneys in Philadelphia. The regional honor is limited to the top 100 criminal defense attorneys in Philadelphia, a county of many thousands of attorneys.
The National Trial Lawyers is a professional organization comprised of the premier trial lawyers from across the country who has demonstrated exceptional qualifications in their area of the law, specifically criminal defense or civil plaintiff law. The National Trial Lawyers provides accreditation to these distinguished attorneys, and also aims to provide essential legal news, information, and continuing education to trial lawyers across the United States.
With the selection of Mark Copoulos by The National Trial Lawyers: Top 100 Criminal Defense Attorneys in Pennsylvania, Copoulos has shown that he exemplifies superior qualifications, leadership skills, and trial results as a trial lawyer. The selection process for this elite honor is based on a multi-phase process which includes peer nominations combined with third party research. As The National Trial Lawyers: Top 100 Criminal Defense Attorneys is an essential source of networking and information for trial attorneys throughout the nation, the final result of the selection process is a credible and comprehensive list of the most outstanding trial lawyers chosen to represent their state or region.
The lawyers at LAW OFFICE OF MARK D. COPOULOS practice in areas of DUI, theft charges, drug charges, assault cases, possession cases, burglary, robbery, endangering welfare of children charges, reckless endangering, and other types of criminal charges. The firm also handles landlord and tenant matters. Mark Copoulos has practiced criminal law for numerous years, and has the knowledge and understanding of the Pennsylvania justice system that one would certainly want from a criminal defense attorney.
THE LAW OFFICE OF MARK D. COPOULOS is available 24 hours a day, 7 days a week. They can be reached by calling 267-535-9776.