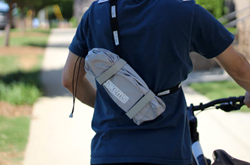 Pakems are perfect for the weekend adventurers, active outdoor enthusiasts and really for anyone who wants some comfort in their daily lives.
Denver, CO (PRWEB) May 16, 2017
The Pakems team launched their Kickstarter campaign today and is looking to raise a total of $19,000 to help bring their new packable shoes to life. Pakems are perfect for sports enthusiasts, commuters, outdoor enthusiasts and everyday adventurers looking for comfort.
Pakems include an upper made of soft, ripstop fabric which makes them lightweight and packable. They also feature an outsole that is mostly EVA for lightness and comfort, along with a few rubber pods for traction. For cooler months, Pakems offer models that are faux-fur lined and insulated from tip to toe for warmth, as well as a cushioned, fur-lined footbed for additional comfort. The team is also introducing new, mesh Pakems for warmer months.
Each pair of Pakems comes with their own carrying bag, complete with compression straps, to easily pack and have shoes at the exact moment that they're needed. The new-generation Pakems will feature a drawcord tucked in the heel of the shoe so they can be pack with or without the tote bag. When packed into the provided tote, Pakems weigh around 11 ounces and can be reduced to a two-inch profile for ultimate portability.
"I love being outdoors and understand the discomfort of wearing hiking boots and ski boots all day and not having a shoe to throw on right when I want to be comfortable. That's why I decided to create, Pakems, a solution that's ultra-portable and extremely comfortable," said Pakems creator Julie Adams. "Pakems are perfect for the weekend adventurers, active outdoor enthusiasts and really for anyone who wants some comfort in their daily lives."
Pakems come in three different heights, including low boots, mid-ankle boots and high mid-calf boots. The low boot style comes with a soft heel so that it can be worn as a slide if preferred. They come in a variety of different patterns and colors, and even include an award-winning, color-your-own paint splash pattern boot that comes with markers for ultimate customization. Alongside their packability, Pakems feature a pocket for cash, credit cards and keys so individuals can leave their purses and wallets at home.
Pakems are available in women's sizes 6-11, men's sizes 8-13 and kid's sizes 11-5. Multiple sizes and styles are available and will provide comfort in ways that other shoes fall short. Early adopters of Pakems can pre-order a pair on Kickstarter at an early bird price for 50, which is 25% less than the market retail price. For more information about Pakems, visit http://bit.ly/PakemsKS.
ABOUT PAKEMS
Based out of Denver, Colorado, the Pakems founder, Julie Adams, believes in giving back and making a difference in the world. Julie believes real change starts with everyone's personal intention each and every day, and that's why she has the words "be kind" on the insole of every Pakems boot. If one person begins their day with a positive intention, that positive energy will impact every interaction they have during the day. For more information about Pakems and the social awareness campaign, "Step Into Your Intentions," visit http://www.pakems.com.