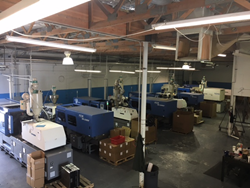 "We welcome all sizes of projects. You will get a CAN DO attitude from our team. J&M would like to be your partner on your next project so don't let product development and production be a stressful experience. Try your next project the J&M way."
Woods Cross, Utah, USA (PRWEB) May 18, 2017
J & M Innovative Products is excited to announce that they have added 3 new injection molding machines to expand their domestic manufacturing. They now have a total of 19 machines, ranging in size from 90 ton to 300 ton. The increase of machines offer their customers a variety of plastic mold capabilities. J&M is using a qualified employee base to invigorate its strengths in domestic manufacturing. Their manufacturing skills and equipment include turnkey manufacturing, custom molding, assembly, packaging and decoration. J&M has doubled their capacity by adding an additional 18,000 square feet to their plant in the past 18 months. They also offer plastic recycling and compounding capabilities at their facility. J&M prides themselves on their fantastic customer service and competitive pricing.
J&M was given the 2017 Best of Woods Cross Award in the Plastic Fabricating, Finishing & Decorating category by the Woods Cross Award Program. See below:
"WOODS CROSS March 20, 2017 -- J & M Innovated Products has been selected for the 2017 Best of Woods Cross Award in the Plastic Fabricating, Finishing & Decorating category by the Woods Cross Award Program.
Each year, the Woods Cross Award Program identifies companies that we believe have achieved exceptional marketing success in their local community and business category. These are local companies that enhance the positive image of small business through service to their customers and our community. These exceptional companies help make the Woods Cross area a great place to live, work and play."
J&M is also excited to announce that since Jeremiah Shapiro joined the J&M team back in 2014 as the General Manager of Operations, several processes have been streamlined to greatly increase efficiency. Mr. Shapiro brings extensive business operations and manufacturing expertise and has made a significant impact in the company. He has brought new ideas and procedures to the day to day processes that have made their team more efficient and customer driven. In short, Jeremiah Shapiro is a great asset to J&M.
J&M was established in 1989 and has been a leader in for the last 28 years. The team is skilled in helping its manufacturing partners meet their expectations and speed to market.
Jeff Nish-President, has led the team for the last 28 years doing business for major companies in several different industries including, but not limited to Archery, Sports, Athletic Flooring and Surfacing, Prosthetics, Golf, Fishing and various other industries.
Every customer at J&M is a partner. J&M's trademark is speed to market; and because of its innovative manufacturing techniques, J&M can provide the competitive edge that will translate to your success in the market place. Find out more at http://www.jmip.net/