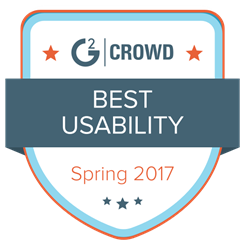 Building complexity on the back end is important, but making that complexity approachable for admins and end users is also vital. It's a balancing act we practice every day.
(PRWEB) May 18, 2017
G2 Crowd, a leading peer-to-peer business software review platform, recently published its Spring 2017 Usability Index for Embedded Business Intelligence report, which ranks Exago as first among its peers in usability. Exago also received "Easiest Admin" and "Best Meets Requirements" distinctions, further bolstering its reputation as a top-tier company dedicated to delivering a powerful solution without compromising ease of use.
"Building complexity on the back end is important," says Exago cofounder and CTO Stewart Meyers. "But making that complexity approachable for admins and end users is also vital. It's a balancing act we practice every day."
With high usability scores, Exago also takes first place in user adoption rates. On average, 64% of software users with access to Exago BI adopt the application, compared to the 52% average. Analytics consultant Wayne Eckerson calls BI adoption "the holy grail", as the ROI for investing in third party software hinges largely on whether potential users choose to adopt.
The G2 Crowd report evaluates a total of eight embedded BI vendors, awarding Exago three of the four available badges. The fourth badge, "Easiest to Use," was awarded to Sisense.
G2 Crowd's usability index is based on vendor reviews collected on the site through March 13, 2017. Reviewers' identities are verified before their comments are accepted, and the number of reviews a product has accrued is factored into the indexing methodology. The more reviews a product has, the more those testimonials are treated as an accurate representation of the customer experience.
To qualify for inclusion in the Usability Index report, BI solutions needed to have received a minimum of 10 customer reviews and 5 responses to each of the use-related questions featured on the G2 Crowd survey.
Thus far, Exago has garnered only four- and five-star reviews on G2 Crowd, and many of these testimonials praise the application's usability.
"Exago...uses a very comprehensive tree-like drag-and-drop interface that is very easy to use," relates a healthcare software reporting specialist in his review. "Accessibility to data is very friendly and simple. The real shocker is how Exago handles large data dumps. Very quickly into any format."
Another reviewer at at an entity management and subsidiary governance solution explains how Exago dramatically improved the reporting experience for his company's end users. "Before using Exago," he says, building reports and dashboards was "a burden for our clients and often required our consultants to build them for the client. With Exago we've now eliminated that burden and anxiety..."
Exago continues to make usability and user adoption a priority, as is evinced by its latest major release. Version 2017.1 brings drag-and-drop functionality to live chart creation, enabling end users to easily build, view, and manipulate visualizations.
About Exago:
Exago was founded in July, 2006 by Mike Brody and Stew Meyers, accomplished application software executives. Their experience with traditional reporting solutions left them, and more importantly their clients, frustrated with the inability of end users to effectively use the ad hoc reporting tools available. This was the genesis of Exago BI, a 100% web-based business intelligence solution offering ad hoc reporting and self-service dashboards designed for seamless embedding and integration. To learn more about Exago BI, visit exagoinc.com.