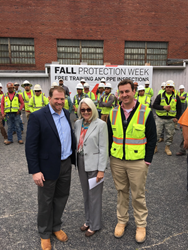 The significance of this joint effort, in addition to the great learning sessions and safety address from Commissioner Berry, is the demonstration that safety is a wide open book!" said Drew Gaskins, regional director of safety for Gilbane
Durham, NC (PRWEB) May 17, 2017
As part of the National Safety Stand-Down to Prevent Falls in Construction, Gilbane Building Company, Barnhill Contracting Company and Clancy & Theys Construction Company teamed together to partner with the North Carolina Department of Labor (NCDOL) and OSHA to provide free fall protection training and fall protection gear inspections to local industry trades.
The event, held on the 9th of May in downtown Raleigh, kicked off with NCDOL Commissioner Cherie Berry who gave a welcome speech that stressed the importance of safety in construction, specifically regarding a focus on fall protection.
"This was a perfect opportunity for local construction firms to team together with NCDOL in an effort to make fall protection safety personal, important and relevant to our trade partners," said Gilbane senior project engineer Paul Pierron.
More than 400 construction workers representing local trade contractors attended the event to receive training which was provided throughout the day. The NCDOL Labor One Mobile Training Unit was on site along with NCDOL training staff and fall protection equipment vendors to provide hands-on training, education, fall demonstrations and inspections of fall protection equipment. Lunch was provided for all participants and safety items were raffled off throughout the day.
"The significance of this joint effort, in addition to the great learning sessions and safety address from Commissioner Berry, is the demonstration that safety is a wide open book!" said Drew Gaskins, regional director of safety for Gilbane. "There are no secrets when it comes to our work force learning construction safety best practices and requirements that if followed, will allow all workers to go home unharmed to their loved ones on a daily basis! Our group, Gilbane, Barnhill, Clancy & Theys, along with the NCDOL is committed to joining forces again next year!" Tyler Kelley, Gilbane superintendent added, "Safety takes no holidays, so it's important to hold events like this to show that, globally, our firms care about the individuals who put so much of the work on a project in place," states.
About Gilbane Building Company
Gilbane provides a full slate of construction and facilities-related services – from pre-construction planning and integrated consulting capabilities to comprehensive construction management, general contracting, design-build, close-out and facility management services – for clients across various markets. Founded in 1873 and still a privately held, family-owned company, Gilbane has more than 50 office locations around the world.The Gilbane Cares philosophy is built on the belief that everyone — employees, clients, partners, and the public — deserves a safe, healthy and secure work environment. For more information, visit http://www.gilbaneco.com
##