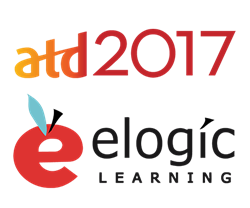 Atlanta, Ga. (PRWEB) May 18, 2017
eLogic Learning (eLogic) will be exhibiting at the upcoming ATD 2017 International Conference and Exposition taking place in Atlanta, Ga. from May 22-24. The company is happy to be returning to ATD and is excited to meet attendees and show off its latest enhancement releases.
eLogic employs an agile development process for its eSSential learning management system (LMS), adding new functionality and user experience enhancements every 2-3 weeks. Many of these enhancements are based off of client feedback in addition to evolving industry trends and technology.
eLogic will showcase a number of these newly released LMS feature enhancements at ATD 2017, including:

Citrix GoTo™ Product Integrations – The system now supports automated integrations with Citrix GoToTraining™, GoToWebinar™ and GoToMeeting™. Clients now have the option to choose between both WebEx and Citrix™ webinar services when setting up a virtual room in the LMS.
Integrated Help Videos – Throughout the LMS, eLogic has incorporated new help videos that demo how to complete a variety of tasks and are launched right from within the application. These topics cover areas such as editing transcripts, user attribute fields, survey management, and much more.
Payment Gateways and Accounts Specific by Theme – Payment gateway options and providers (Authorize.net, PayfloPro, FirstData, etc.) can now be defined at the Theme Management level allowing for funds to be deposited into different gateways based on theme assignment as opposed to one overarching gateway.
Community Management – This is an enhancement clients have been asking for an eLogic is happy to provide it to them. Community Management allows clients to build forums within the LMS where users of similar interest can share ideas in a social learning environment.
Site Specific Hierarchies – For multi-site clients, new functionality allows for both organizational and geographical hierarchies to be site specific bringing additional segmentation capabilities and increased multi-site security.
To hear more about these and other enhancements, along with the eSSential LMS, attendees can add eLogic to their conference planner using the conference planning tool on ATD's website. Visit eLogic's exhibitor page here.
About eLogic Learning
A leader in the eLearning industry, eLogic Learning offers organizations world class, comprehensive LMS technology and content solutions that save costs and increase productivity. The eLogic eSSential LMS supports over five million monthly users and was named the #1 LMS by E-Learning 24/7, the #1 All-Purpose Extended Enterprise LMS by Talented Learning, and Top 20 by Capterra. The eSSential LMS makes it easy to manage eLearning, instructor-led and virtual training events, keep up with regulatory compliance requirements, analyze training usage and results, sell courses online with robust ecommerce features, and much more.
In addition to its Learning Management System, eLogic develops custom eLearning content and provides an extensive third-party courseware library. With a comprehensive turnkey approach to implementing learning strategies, eLogic offers professional services and proven expertise in content strategy, business process change and the development of corporate training programs.