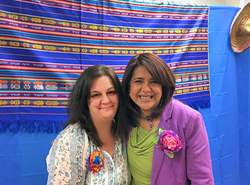 Suitland, Maryland (PRWEB) May 17, 2017
Andrews Federal Credit Union served as a Gold Sponsor for Servicios Latinos de Burlington County's Cinco de May Celebration Award Dinner. The event recognizes organizations, businesses, and individuals for their partnership, support, and contributions to the Latino community in Burlington County.
During the event, Univision Anchorwoman, Ilia Garcia, recognized President Paul Drayton Jr. from Rowan College at Burlington County, Yubelkis Fernandez from Yudi's Hair Salon (Latino Minority Business Owner), and two Latino students who have demonstrated to be an inspiration to their families and community.
"It is an honor to support Servicios Latinos de Burlington County," said Andrews Federal's Jennifer Fiore, Mt. Laurel Branch Manager. "The tremendous impact they provide within the local community is an inspiration to all."
About Servicios Latinos de Burlington County
Servicios Latinos of Burlington County provides social services to the Hispanic community. They assist clients with any needs they may have, which may include help in paying bills, taxes, assistance with interpreting letters they receive, seeking employment, seeking housing, and any kind of translation or interpreting assistance they may need. The agency provides assistance in educating the Hispanic community in Burlington County about the area in which they live.
About Andrews Federal Credit Union
Andrews Federal Credit Union was founded in 1948 to serve the needs of military and civilian personnel by providing a vast array of financial products and services. With over $1.5 billion in assets, Andrews Federal has grown to serve more than 120,000 members in the District of Columbia, Joint Base Andrews (MD), Springfield, Virginia (VA), Joint Base McGuire-Dix-Lakehurst (NJ), and military installations in central Germany, Belgium, and the Netherlands. In addition, the Credit Union serves as a financial partner with many select employee groups in Maryland, the District of Columbia, Virginia and New Jersey.
To learn more about Andrews Federal Credit Union and its community involvement, or to become a member, call 800.487.5500 or visit http://www.andrewsfcu.org.