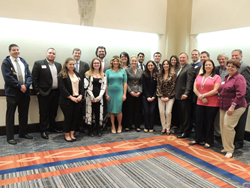 The LIHLA looks to be a valuable Long Island association, with a wide array of hospitality industry orientated entities and individuals becoming active and participating members.
Carle Place, NY (PRWEB) May 17, 2017
On Thursday, May 4, 2017, the Long Island Hospitality and Leisure Association (LIHLA) held its second meeting of the year for Long Island Hospitality Industry professionals and students. It was held at the Long Island Hilton from 8:00 am - 10:00 am. The event was sponsored by the Long Island Business News.
Attendees included Long Island Hoteliers, Restaurateurs, Hospitality Industry suppliers, representatives from Discover Long Island, college students, and PR and Marketing agencies. Professor Tina Ferro from St. Joseph's College, and several of her students, conducted a Q&A panel to present tourism related viewpoints from the collegiate Millennials. The attendees were invited to ask impromptu questions to the panel as it relates to Millennial Travel Trends. Overall, approximately 15 questions were asked of the panel, and they provided attendees with straightforward answers.
The LIHLA also had guests Gary Cucchi, Vice President of Progressive Marketing Group, and Bill Corbett, Jr., from Corbett Public Relations, which are both Long Island-based companies, give a joint presentation regarding some innovative and tactical Marketing and PR tips. The topics they covered during their presentation can be found on the LIHLA's website at http://www.lihla.com.
The meeting opened with a complimentary breakfast provided by the Long Island Hilton, followed by opening remarks of the LIHLA's President, Ken Walles. The LIHLA also paid tribute to a long time representative of tourism throughout New York State, including Long Island, Dave Thornton, formerly with Destinations of New York State (DONYS), as Dave passed away last month, but he is a destination marketing pioneer and legend to many.
The LIHLA is a Long Island Hospitality Industry Association, and its objective is to present Long Islanders that work in one of the largest industries on Long Island (e.g. Tourism) with an opportunity to network together and discuss various aspects of the industry, which includes, but is not limited to travel trends, legislation, growth, setbacks, challenges, opportunities, college and university relations, etc. The LIHLA used to be known as the Long Island Hotel and Lodging Association; however, the LIHLA changed the name to broaden its membership base, and attract all tourism related entities and individuals. It's the hopes of the LIHLA to grow the organization, and develop relationships and partnerships between Hospitality Industry Professionals, which at times there is a disconnect, as Long Island is an extremely large and diverse tourism destination, but the LIHLA intends to change that.
The LIHLA is looking ahead, and would like to see more Board Members, and then perhaps create various committees with active members to address multiple industry related topics, and continue to provide services that are meaningful, helpful and valuable to Industry partners.
As of late, the one topic the LIHLA is paying close attention to is the proposed hotel occupancy tax increase on Long Island, as there are varying opinions regarding the necessity for Discover Long Island to receive additional funds from both Nassau and Suffolk Counties, and there are varying beliefs and opinions that the Counties can and should look at ways to cut wasteful spending, and be more transparent and accountable with the current funds they receive through the occupancy tax collected by hotels throughout Long Island. One of the latest topics that is intertwined with the proposed tax increase is short-term rentals that are often advertised through companies such as Airbnb and HomeAway. There appears to be a lot of attention and focus on these short-term rentals, as many do not collect or pay the hotel occupancy taxes that legitimate hotels, motels and bed and breakfasts collect and pay. It appears that there is a proposed Bill that is being looked at and considered on a State level that will address the short-term rentals and the many related issues that a lot of Long Island Hoteliers have with them. The aforementioned is a primary example of the things the LIHLA brings to the attention of their members, and helps create dialogue between members, and other Long Island organizations and associations.
On Friday, May 12, 2017, Kristen Jarnagin, the President and CEO of Discover Long Island, was asked via e-mail if there were any updates regarding the Sunset Tax, and the proposed Long Island Hotel Occupancy Tax. That question was not answered, which is the second time that the question has been asked of Jarnagin without a response. There is some information circulating that the proposed Hotel Occupancy Tax increase is tabled, and may not be an issue for the next couple of years or so; however, the LIHLA is not confirming that at this time. The second question asked of Jarnagin was in regards to short-term rentals on Long Island (e.g. Airbnb & HomeAway). Although the question was specifically directed to Jarnagin, her reply was as follows, "Our board has not taken a formal position on Airbnb." This in and of itself is something the LIHLA would like to further discuss with Full Members, County Legislators, State Representatives, and those willing to have open and transparent discussions regarding these pertinent matters.
Recently, New York State Republican Senator Rich Funke proposed a Bill (S 5978), which is legislation and an Act to amend the multiple residence law, in relation to prohibiting short-term rental of private dwellings. This is something that can be viewed by visiting the following link: [https://www.nysenate.gov/senators/rich-funke/legislation
The Bill (S 5978) is something that the LIHLA will pay close attention to, and will report on as things progress.
Again, the LIHLA looks to be a valuable Long Island association, with a wide array of hospitality industry orientated entities and individuals becoming active and participating members.
The LIHLA's upcoming events and meetings include, but will not be limited to the following: Additional guest speakers, roundtable discussions, panel discussions (Q&A), college scholarship fundraising event in September, meetings with additional Associations, Organizations, Colleges and Universities throughout Long Island, etc.
For additional information, and to become an active member, please visit http://www.lihla.com.