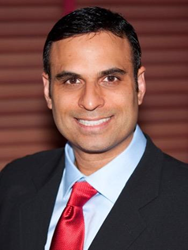 Chicago, IL (PRWEB) May 17, 2017
Dr. Amarik Singh recognizes Stroke Awareness Month by teaching his patients the connection between gum disease and stroke. As an authority on periodontology, Dr. Singh understands the increased risks of serious systemic conditions, including diabetes, certain cancers and heart disease, when periodontitis in Chicago, IL is left untreated. Dr. Singh offers specialized laser gum disease treatment at his renowned practice, Periodontal Implant Associates, to eradicate disease causing-bacteria and prevent oral and overall health effects.
Bleeding gums are often the first sign that gum inflammation and gingivitis, the first stage of gum disease, are present. If plaque is not removed through regular dental hygiene routines, it hardens under the gum line. Gingivitis can develop into the next stage, periodontitis, if not treated by a periodontist. Hormone fluctuations, tobacco use and genetics may also increase a patient's risk of developing periodontitis in Chicago, IL. Age is another factor. The National Institute of Dental and Craniofacial Research reports that more than 70 percent of those 65 and older suffer from gum disease.
Approximately every four minutes, stroke takes the life of another American. Although the exact link between gum disease and stroke has not been determined, leading specialists and the American Academy of Periodontology recognize a relationship between the two caused by inflammation and infection that begins in the gums.
To make it easier for his patients to lower their risk of stroke from periodontitis in Chicago, IL, Dr. Singh offers advanced, minimally invasive laser dentistry. The ultra-fine tip of the latest BIOLASE WaterLase® laser allows him to access and clean the bacteria, infected tissue and tartar without harming healthy tissue and allowing patients to recover quickly. In addition, the laser cauterizes wounds in the mouth to reduce the chances of infection and susceptibility to harmful bacteria.
Anyone seeking treatment for periodontitis in Chicago, IL can learn more about its connection to stroke as well as the benefits of laser gum surgery on Dr. Singh's website at http://www.pidentists.com. To make an appointment, individuals can call 630-424-9404.
About the Doctor
Periodontal Implant Associates is a periodontal practice offering personalized dental care for patients in Oak Brook, IL and the Chicago area. After graduating from Northwestern University Dental School, Dr. Amarik Singh went on to obtain his Specialty Certificate in Periodontics and earn his Master's from Northwestern University. Dr. Singh is deeply committed to continuing education and prides himself on remaining on the cutting-edge of the newest techniques and technology in dentistry. Dr. Singh has placed over 15,000 dental implants using a minimally-invasive technique and is part of an elite group of dental professionals at the forefront of the Chao Pinhole® Surgical Technique (PST™), a revolutionary new approach to repairing gum recession. To learn more about the periodontal services available at Periodontal Implant Associates, please visit http://www.pidentists.com or call 630-424-9404.