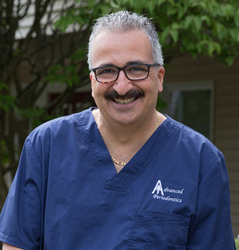 Monroe, CT (PRWEB) May 17, 2017
This June, Dr. Richard Amato is now offering complimentary new patient exams, x-rays and custom treatment plans to patients who donate to Smile Train, the international, non-profit organization. This is the second year in a row that Dr. Amato has supported this reputable cause. Smile Train is a children's charity that provides millions of children in over 85 developing countries cleft palate or lip treatment. As a compassionate periodontist in Monroe, CT, Dr. Amato will also match each donation made to this children's charity.
Every five minutes, a child receives a life-changing cleft repair surgery from Smile Train. This organization provides a sustainable, comprehensive approach to correcting cleft lip and cleft palate. With over 170,000 children born in developing nations around the world with a cleft palate and/or lip, Dr. Amato strives to support organizations like Smile Train to ensure they receive the treatment they need.
Dr. Amato is a leading periodontist offering experienced, comprehensive periodontal care in Monroe, CT and is dedicated to spreading qualified care to members of his community, as well as internationally. He is inviting patients who donate $50 or more, which is the cost of an overnight hospital stay for one of these young patients, to receive complimentary new patient consultations, precise x-rays and a thorough treatment plan.
Cleft lip and palate procedures may seem like a cosmetic concern, however, they can also lead to extreme difficulties eating, drinking, speaking and breathing. Cleft lip or cleft palate surgeries are frequently unaffordable or inaccessible for many parents in developing nations. Not only does Smile Train transform the lives of children suffering with these conditions, but it also trains local doctors to provide this treatment for years to come. A donation of $250 can provide this life-changing procedure to a child. Last May, Dr. Amato offered the same promotion and raised almost $5,000 for Smile Train.
Dr. Amato invites patients to learn more about how their donation to Smile Train can impact a child's life by calling his office at 203-712-0917. Dr. Amato is proud to not only promote this cause, but match donations made to Smile Train. More information about the leading services Dr. Amato offers at his periodontal practice, Advanced Periodontics and Dental Implant Center of Connecticut, can be found at http://www.connecticutperiodontist.com.
About the Doctor
Dr. Richard Amato is a leading periodontist and dental implant specialist who provides personalized dental care using the most advanced technology for patients at Advanced Periodontics and Dental Implant Center of Connecticut LLC in Monroe, Connecticut. He has placed thousands of dental implants since 1989. Dr. Amato earned a DDS degree from Stony Brook University. He then completed a full-time multi-year specialty residency and received his Certificate of Proficiency in Periodontics from Eastman Dental Center at the University of Rochester. He belongs to the one percent of dentists in the USA currently providing the first FDA-cleared laser procedure for gum disease treatment. Dr. Amato is the first and most experienced provider of LANAP® therapy in Fairfield County, Connecticut as well as the first Periodontist to provide the Pinhole® Surgical technique in CT. To learn more about Dr. Amato and his dental services, visit his website at http://www.connecticutperiodontist.com and call 203-712-0917.