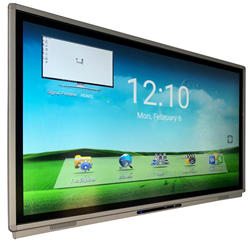 We've developed what we think is the ultimate interactive flat panel for the education marketplace, backed up by unparalleled support for the customer
Long Branch, N.J (PRWEB) May 18, 2017
Corning Painted Post is the latest school district in New York State to implement TouchIT Technologies interactive LED displays. Corning Painted Post is a diverse PreK-12 school district located in Steuben County, NY including six elementary schools, one middle school, and one high school. After thorough testing and evaluation, the new TouchIT Technology "Y" series Interactive LED Display was selected as the preferred classroom A/V solution. With built-in Android operating system, 4K resolution, BOCES contract pricing, and unrivaled factory support these products are the best choice for New York State schools. Units are currently en route and will be installed as the current school year ends.
TouchIT products include their own free software but can be used with any software for touchscreen displays. They are compatible with systems currently using Smart Notebook and will work seamlessly with this software. TouchIT products will also work seamlessly with Chromebooks in both directions. These TouchIT products address the issues commonly associated with interactive displays, including poor image quality, bad projector lamps and filters, and obsolete interactive board technologies.
"We've developed what we think is the ultimate interactive flat panel for the education marketplace, backed up by unparalleled support for the customer," said President of TouchIT Technologies Ronnie Murphy. "We're excited to be able to offer [these products] to New York State BOCES through our partner 3Delivers."
3Delivers is a Classroom Technology provider located in Long Branch, New Jersey. Their products power schools, government agencies, freelancers, resellers and more. The company offers unmatched manufacturer direct pricing. 3Delivers is brand independent, meaning each brand is equally represented and each solution is provided on a per client basis. For more information, visit 3Delivers' website at http://www.3Delivers.com.
TouchIT Technologies is a designer and manufacturer of innovative touch-based interactive products located in Birmingham, Michigan. The company began life as an interactive whiteboard manufacturer with its world-first enamel steel interactive TouchIT Board. Today TouchIT focuses on the manufacture of interactive flat panel displays, with its 5th product generation launched in 2017. Explore more on TouchIT Technologies.