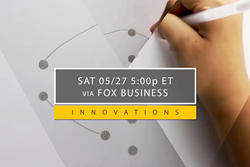 We look forward to exploring the role technology plays in creating a brighter future for our children...
Jupiter, FL (PRWEB) May 22, 2017
Innovations with Ed Begley, Jr. announces the upcoming airing of the award winning series, scheduled to broadcast Saturday, May 27, 2017 at 5:00 pm ET.
First, Innovations will educate viewers about the benefits of ASL on the developing brain. In addition to learning the fascinating history of ASL and ASL research, spectators will also learn about DawnSignPress' materials, which are some of the best ASL and Deaf culture materials available.
Next, the series will learn about Math Stackers, a product created to help make math fun. By maximizing children's discovery and interaction with math, Math Stackers offers a different approach to introducing and exploring mathematical concepts. Thus, enabling children to demonstrate their ability to compare, question, and provide ideas and theories using fun, colorful learning blocks.
Viewers will get a behind-the-scenes look at e-ImageData's line of ScanPro® microfilm scanners, which are the micrographic equipment of choice in the world's most prestigious libraries and corporations. Viewers will learn about the latest product release, the ScanPro i9300, which provides powerful new features for working with image-marked, or "blipped," film.
Finally, the show will focus on Electrokinks Writeables, Inc., and its innovative, interactive nontoxic silver ink pens, known as Circuit Scribe, which enable users to create circuits by simply drawing on paper. Audiences get a behind-the-scenes look at the chemistry and technology behind the water based nontoxic conductive silver ink – which writes on flexible substrates – and will see how this easy circuit building tool is helping schools across the country teach circuitry to students of all ages.
"It's amazing to see how technology is helping to advance the world in which we live today," said Michael Devine, Senior Producer for the Innovations Series. "We look forward to exploring the role technology plays in creating a brighter future for our children, our country, and our world."
About Innovations & DMG Productions:
Innovations, hosted by award winning actor Ed Begley, Jr., is an information-based series geared toward educating the public on the latest breakthroughs in all areas of society. Featuring practical solutions and important issues facing consumers and professionals alike, Innovations focuses on cutting-edge advancements in everything from health and wellness to global business, renewable energy, and more.
DMG Productions (responsible for creating the Innovations show) includes personnel specialized in various fields from agriculture to medicine, independent films to regional news and more. Our field producers work closely with experts in the field to develop stories. This powerful force enables us to consistently produce commercial-free, educational programming that both viewers and networks depend on.
For more information visit: http://www.InnovationsTelevision.com or contact Michael Devine at: (866) 496-4065 or via email at: info(at)innovationstelevision(dot)com.