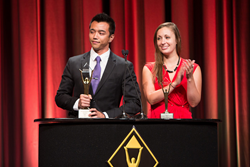 CallidusCloud, the Dublin, CA software developer has received the Grand Stevie for Organization of the Year for the second year in a row, with a record 111.5 points.
Fairfax, VA (PRWEB) May 17, 2017
The Stevie® Awards today announced the Grand Stevie Award winners in The 15th Annual American Business Awards. Winners will be presented their Grand Stevie trophies at the ABA gala event on June 20 in New York.
The Grand Stevie Award trophies are best-of-competition prizes that are awarded to the organizations that submit the best body of nominations to the competition, in their own name or in the names of one or more clients. Winners are determined by a points system based on the total number of awards won in the ABAs, with a Gold Stevie win counting for three points, a Silver Stevie for two points, and a Bronze Stevie counting for one-and-a-half. Gold, Silver and Bronze Stevie winners in the 2017 ABAs were announced on May 2.
CallidusCloud, the Dublin, CA software developer has received the Grand Stevie for Organization of the Year for the second year in a row, with a record 111.5 points. Stevie-winning organizations are accorded three points for each Gold Stevie win, two points per Silver Stevie win, and one-and-a-half points for each Bronze Stevie win.
Other Grand Stevie winners include:

Most Honored Interactive Agency: Blue Wheel Media, Troy, MI, with 19 points earned for projects for clients including Billhighway, SHEEX and WellNet, among others.
Most Honored Marketing Agency: Momentum Worldwide, New York, NY, with 34 points earned for campaigns and projects for clients Allergan, American Express and Lockheed Martin.
Most Honored Public Relations Agency: SHIFT Communications, with offices nationwide, with 37.5 points earned for nominations submitted on behalf of 12 client companies.
Grand Stevies will also be presented to the 10 other organizations with the most points in the 2017 competition. They are:

#1: Cisco Systems, San Jose, CA (94 points)
#2: Melissa Sones Consulting, a New York-based awards consultancy, with 38 points earned for Stevie-winning nominations submitted for eight clients
#3: FleishmanHillard, the multinational communications consultancy with offices across the U.S.A., earned 35 for Stevie wins on behalf of seven clients
#4: PAIRELATIONS LCC, an awards consultancy in Centennial, CO with 31.5 points for Stevies won for five clients
#5 (tie): FIS, St. Petersburg, FL (25 points)
John Hancock Financial, Boston, MA (25)

#7: Makovsky & Co, New York and Washington, DC (22)
#8: Jeunesse Global, Orlando, FL (20)
#9: Navicor, LLC, Westerville, OH (18.5)
#10: Cirkled in, Redmond, WA (18)
All organizations operating in the U.S.A. – large and small, public and private, for-profit and non-profit - are eligible to submit nominations to the ABAs in a wide range of categories, honoring achievement in every aspect of work life, from customer service and management to public relations and product development. More than 3,600 nominations were reviewed in the judging process this year by more than 190 professionals, whose average scores determined the winners. The presentations will be broadcast live via Livestream.
For a complete list of the 2017 Stevie Award winners, visit http://www.StevieAwards.com/ABA.
Tickets for the June 20 awards gala in New York are now on sale.
About the Stevie Awards
Stevie Awards are conferred in seven programs: the Asia-Pacific Stevie Awards, the German Stevie Awards, The American Business Awards, The International Business Awards, the Stevie Awards for Women in Business, the Stevie Awards for Sales & Customer Service, and the new Stevie Awards for Great Employers. Stevie Awards competitions receive more than 10,000 entries each year from organizations in more than 60 nations. Honoring organizations of all types and sizes and the people behind them, the Stevies recognize outstanding performances in the workplace worldwide. Learn more about the Stevie Awards at http://www.StevieAwards.com.