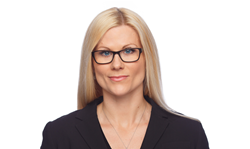 "Joanna is an exceptional leader and team builder who has created a dynamic work environment that fosters shared success and epitomizes the Burwood culture," said Jim Hart, President at Burwood Group.
San Diego, CA (PRWEB) May 17, 2017
Burwood Group, Inc., announced today that CRN®, a brand of The Channel Company, has named Joanna Robinson, Regional Vice President for West Coast Operations, to its prestigious 2017 Women of the Channel list. The executives who comprise this annual list span the IT channel, representing vendors, distributors, solution providers, and other organizations who figure prominently in the channel ecosystem. Women of the Channel honorees are selected based on their professional accomplishments, demonstrated expertise and ongoing dedication to the IT channel.
Robinson is an award-winning, high-energy leader with more than 15 years of experience in professional services, business development strategy, channel partner management, and operations. Under her leadership, Burwood Group has doubled the size of its Western Region within the last year, opened a new office in Irvine, California, as well as its newest Operations Center in San Diego. Robinson joined Burwood in 2016 from Novitex Enterprise Solutions (previously Pitney Bowes Management Services), where she ran a $70M business for the organization's healthcare practice and led business development for its legal solutions. In 2015, Robinson won the prestigious Stevie Award for excellence in Sales & Customer Service, in addition to the Sales Director of the Year award in February 2015. Robinson received her Master of Business Administration from the University of Southern California, Marshall School of Business.
"These extraordinary executives support every aspect of the channel ecosystem, from technical innovation to marketing to business development, working tirelessly to keep the channel moving into the future," said Robert Faletra, CEO of The Channel Company. They are creating and elevating channel partner programs, developing fresh go-to-market strategies, strengthening the channel's network of partnerships and building creative new IT solutions, among many other contributions. We congratulate all the 2017 Women of the Channel on their stellar accomplishments and look forward to their future success."
"Joanna is an exceptional leader and team builder who has created a dynamic work environment that fosters shared success and epitomizes the Burwood culture," said Jim Hart, President at Burwood Group. "We are thrilled to see her recognized for her outstanding leadership, vision, and unique role in driving channel growth and innovation."
"It is a very exciting time for women in Information Technology and I am truly honored to receive this award and be featured among an exceptional representation of female executives in IT," said Joanna Robinson, Regional VP, West Coast Operations at Burwood Group. "In the last year, Burwood's Western region team has accelerated our growth and business development efforts, strengthening Burwood's network of partnerships, and creating innovative IT solutions to meet our clients' needs. I look forward to building on this success and driving further channel growth in the months and years to come."
Learn more about Joanna Robinson, Burwood Group's Regional VP, Western Region.
The 2017 Women of the Channel list will be featured in the June issue of CRN Magazine and online at http://www.CRN.com/wotc.
Follow The Channel Company: Twitter, LinkedIn and Facebook
About Burwood Group, Inc.
Burwood Group is a systems integrator, helping forward-thinking IT leaders deliver knowledge to the end-user within the organization's unique business context to increase profitability, reduce risk, and enhance customer loyalty. We partner with leading technology and service organizations to provide tailored product and industry solutions. We work to ensure an optimal fit for each individual client. Founded in 1997 and headquartered in Chicago, Illinois, Burwood Group serves local, national, and international clients. We pride ourselves in being trusted business advisors to clients by providing smarter solutions that deliver better outcomes. Visit http://www.burwood.com.
About the Channel Company
The Channel Company enables breakthrough IT channel performance with our dominant media, engaging events, expert consulting and education, and innovative marketing services and platforms. As the channel catalyst, we connect and empower technology suppliers, solution providers and end users. Backed by more than 30 years of unequaled channel experience, we draw from our deep knowledge to envision innovative new solutions for ever-evolving challenges in the technology marketplace. http://www.thechannelco.com
©2017. The Channel Company, LLC. CRN is a registered trademark of The Channel Company, LLC. All rights reserved.