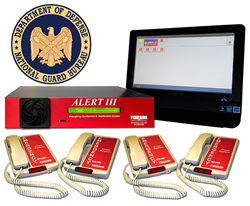 Richardson, Texas (PRWEB) May 17, 2017
Forum Communications announced today the completion of a major DOD contract award by the National Guard Bureau, working through NetCents Prime contractor Intelligent Decisions, to modernize the Crash Alert systems at most Air National Guard Air bases.
In cooperation with the National Guard Bureau, NGB/A6, the office of Communications and Information systems, and Intelligent Decisions, the NetCents Prime contractor, Forum was awarded in the fall of 2015, and has recently completed, the installation and training of the Alert III Emergency Conference system at approximately 65 Air National Guard Wing locations across the US and Puerto Rico.
The contract was the culmination of an effort by the NGB/A6 to modernize the aging and obsolete communications systems used to support the Primary Crash Alarm System (PCAS) and the Secondary Crash Net (SCN) systems required for Airfield Management & Communications systems (AFI 13-204V3).
Forum's Alert system was designed specifically for, and in conjunction with, the US Air Force and FAA Flight Safety to exceed all operational, reliability and performance benchmarks for Crash Alarm applications. The System instantly connects all key first responders and enhances Air Rescue and response capabilities by providing incident information and eliminating delays in the communication of that critical information. The system is completely independent and extremely reliable, and when deployed in High Availability mode, is impervious to power outages and Network vulnerabilities.
The Alert III system is successfully deployed in many US Commercial Airports, Air Force, Air National Guard, Army Airfield, and Naval Air Stations across the US and around the World.
About Forum Communications
Forum Communications is a market leader in audio conferencing and emergency response systems for Commercial and Military (DOD) applications. Our Alert III Emergency Conference System provides Aircraft Rescue and Firefighting (ARFF) notification, or "Crash System" capabilities – at over 175 Commercial and Military Airports around the world. Forum is also a leading supplier of VOIP enabled Unified Capabilities audio conferencing for mission critical requirements in both business and the DOD.
About Intelligent Decisions
Founded in 1988, Intelligent Decisions, Inc. is a recoggized leader in developing and delivering innovative federal IT solutions to the civilian, defense and intelligence communities. For more information, visit http://www.intelligent.net or call toll-free (800) 929-8331.
For more information call Forum Communications at (972) 680-0700 or visit our website at
http://www.forum-com.com.