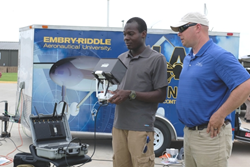 "We believe that drones equipped with AR will save lives and crucial time for agencies." David Geisler, Rapid Imaging Software, Inc.
Albuquerque, NM (PRWEB) May 19, 2017
Rapid Imaging Software announced that unmanned aircraft systems (UAS) students from Embry-Riddle Aeronautical University will use SmartCam3D View in the, UAS/Severe Weather Disaster Relief Operations Study Away Program in Oklahoma this month. During the study, students will learn operational and coordination requirements associated with UAS in support of disaster relief operations in partnership with the Oklahoma Department of Emergency Management.
Embry-Riddle students will be equipped with Rapid Imaging Software's powerful augmented reality (AR) app, SmartCam3D View. The app shows map data such as street names and points of interest as overlays on video. This information assists the UAS pilot with safe flight operations and enhances disaster relief operations such as:

Searching for missing persons or survivors
Determining extent of damage to homes or infrastructure
Directing emergency response teams to safe routes to affected areas
Finding damaged infrastructure, storm drains or fire hydrants
Avoiding flight hazards,power lines and towers
"Embry Riddle is a leader in UAS education and we wanted to expose students to the best AR technology available", stated David Geisler, Vice President of Operations for Rapid Imaging Software. "We believe that drones equipped with AR will save lives and crucial time for agencies."
Dr. Joseph Cerreta, Embry Riddle Assistant Professor of Aeronautical Science notes, "Students will operate under the FAA's Part 107 sUAS rule using thermal imaging cameras, loaned from Rocky Mountain Unmanned Systems (RMUS), to effectively operate at night in search and rescue operations under a Certificate of Waiver. Thermal cameras with Rapid Imaging Software's augmented reality can make night operations safer and more effective for first responders."
The goal of the study is to teach students how UAS can assist local communities when disaster strikes.
For more on SmartCam3D View:
http://www.rapidimaging.net/smartcam3dview/
###
Rapid Imaging Software, Inc. is a pioneer in augmented reality and has been refining the technology since 1995. Our products are found on every US Army and US Marine tactical unmanned aircraft system.
Photo: Sandra Cerreta
About Embry-Riddle Aeronautical University
Embry-Riddle Aeronautical University, the world's largest, fully accredited university specializing in aviation and aerospace, is a nonprofit, independent institution offering more than 80 baccalaureate, master's and Ph.D. degree programs in its colleges of Arts & Sciences, Aviation, Business, Engineering and Security & Intelligence. Embry-Riddle educates students at residential campuses in Daytona Beach, Fla., and Prescott, Ariz., through the Worldwide Campus with more than 125 locations in the United States, Europe, Asia and the Middle East, and through online programs. The university is a major research center, seeking solutions to real-world problems in partnership with the aerospace industry, other universities and government agencies. For more information, visit http://www.embryriddle.edu, follow us on Twitter (@EmbryRiddle) and facebook.com/EmbryRiddleUniversity, and find expert videos at YouTube.com/EmbryRiddleUniv.