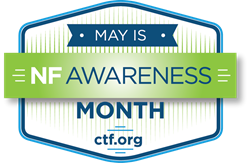 New York, NY (PRWEB) May 17, 2017
The Children's Tumor Foundation is pleased to announce that in recognition of NF Awareness Month, buildings, bridges, monuments, and landmarks across the globe will show their support in the fight against neurofibromatosis (NF) by lighting up in blue and green, the official colors of NF. NF is a genetic disorder that affects 1 in 3,000 births of all populations, and causes tumors to grow on nerves throughout the body. It can lead to blindness, deafness, bone abnormalities, disfigurement, learning disabilities, disabling pain, and cancer. There is not yet a cure.
Launched by the Children's Tumor Foundation in 2014 to increase public knowledge of this critical disease, the Shine a Light on NF campaign has grown substantially over the years. Once again, the Children's Tumor Foundation is partnering with NF organizations across the globe to increase the number of architectural icons that light up in 2017, as well as to extend the reach of the NF campaign globally.
Participating landmarks include Niagara Falls and the Wrigley Building (Chicago) in the United States; Trafalgar Square Fountain (London, England) and the Carrickfergus Castle (Carrickfergus) in the United Kingdom; Canada Place (Vancouver) and the CN Tower (Toronto) in Canada; and LENTOS Kunstmuseum (Linz) in Austria, among many others. More than 145 landmarks will light up, spanning eight countries. The United Kingdom effort was led by the Neuro Foundation, the leading organization in the UK dedicated to helping people who live with NF; the Canadian effort was led by the Tumour Foundation of British Columbia and Neurofibromatosis Ontario; the Austrian effort was led by NF Kinder; and domestic NF organizations CureNFwithJack and Texas Neurofibromatosis Foundation also contributed.
"The Children's Tumor Foundation is grateful to all involved in this year's NF awareness campaign – patients, doctors, researchers, corporations, and organizations," said Simon Vukelj, Vice President, Marketing and Communications, of the Children's Tumor Foundation. "NF Awareness Month is a time when the NF community unites as one voice, and we're inspired by everyone's commitment and partnership in our mission to end NF."
Shine a Light on NF is one part of a month-long awareness campaign that is comprised of online and offline events designed to educate the community about this under-recognized genetic disorder. The Children's Tumor Foundation leads this effort with the "#EndNF" and "I Know a Fighter" initiatives. In addition, events are held in cities across the country and around the world to raise awareness, raise money for research, and connect the NF community.

In addition to "Shine a Light on NF," 24 states in America have issued proclamations declaring May as NF Awareness Month or May 17 as NF Awareness Day: Arizona, Arkansas, Florida, Georgia, Hawaii, Illinoi, Iowa, Kansas, Kentucky, Massachusetts, Michigan, Mississippi, New Jersey, North Carolina, North Dakota, Ohio, Pennsylvania, South Carolina, Tennessee, Utah, Virginia, Washington, West Virginia and Wyoming. A list of the 28 cities who have also issued proclamations can be found online at http://www.ctf.org/get-involved/proclamations
A listing of local NF Walks, NF Endurance events, and local community fundraisers taking place all across the country to raise money to fund NF research and recognize the positive spirit and resolve of local NF Heroes and their families can be found online at ctf.org/calendar.
CTF released an exclusive photo series by award-winning photojournalist Craig Warga, an NF parent who set out to inspire his young son, who lives with NF1. This collection is about people living with neurofibromatosis - not just living, but succeeding and thriving. The NF story can be one full of hurdles - diagnosis, symptoms, doctor appointments, MRI scans, surgeries and/or clinical trials. With this project, we're telling a side of the NF story that isn't often told: the passion that those living with NF bring to their daily lives, to their work, their goals, their relationships, the things they want to get out of life, with or without NF. This collection launches online at ctf.org/thisisnf with portraits and profiles of 11 adults living with NF.
Exclusive merchandise with "I Know a Fighter," "Born a Fighter," and End NF imagery, is available for purchase online at http://www.ctf.org/store, plus the limited-edition Ian Desmond "Desi" tee-shirt. All purchases support the efforts of the Children's Tumor Foundation.
The Children's Tumor Foundation is committed to finding effective treatments for the millions of people worldwide living with neurofibromatosis. In addition to benefitting those who live with NF, this research is shedding new light on several forms of cancer, brain tumors, bone abnormalities, and learning disabilities, ultimately benefiting the broader community.
For more information on the Children's Tumor Foundation, as well as all the NF Awareness Month campaign initiatives, please visit http://www.ctf.org/nfawareness.