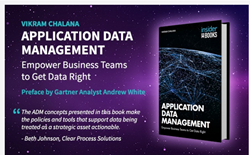 Order your book now! http://www.insider-books.com/products/271-print
Orlando, Florida (PRWEB) May 18, 2017
CEO Mark Orzen is pleased to announce that Clear Process Solutions (CPS) was chosen as a guest author for Winshuttle Co-Founder and CTO Vikram Chalana's new book "Application Data Management - Empower Business Teams to Get Data Right." The book is being released at SAPPHIRE NOW.
This book presents the new concept of Application Data Management (ADM) and details how businesses will be able to use this blueprint to drive their success in upholding and governing data. Many companies in a wide range of industries are regarding their data as an unmatched asset. But businesses need to successfully and succinctly maintain data in their ERP system before they can begin to utilize advanced technology trends.
"As a global process optimization company, the advent of this ADM ideology validates our growing impact to people, process and the relevance of technology," said Mark Orzen. "Clear Process Solutions is honored our customer successes have played a part in data's relevance as a strategic asset."
"Businesses who undervalue the importance of data will run the risk of losing their competitive edge in the future," said Vikram Chalana. "This book is designed to empower business and IT teams to leverage the emerging ADM framework to better manage and utilize data as an asset to the organization."
With guest authors from Clear Process Solutions, a preface by Andrew White of Gartner and over ten customer use cases from global enterprises, this book delivers the outline companies need to use to enable application data management to fast-track their digital revolution.
The book will be available online through Insiderbooks, and at SAPPHIRE NOW. Conference goers can stop by the Winshuttle booth #847 to pick up a book and attend the book signing Thursday May 18th at 10:30AM to meet with the author and guest author, Mark Orzen from Clear Process Solutions.
About Clear Process Solutions
Clear Process Solutions is the premier global services / implementation partner for Winshuttle and are leaders in ADM, RPA and Business Intelligence Insights (BI). A turnkey provider of Winshuttle packaging, licensing, training, services and support, CPS has extensive experience in SAP, SharePoint and Winshuttle platforms. CPS implements both mass data automation and mobility enabled webform and workflow which integrate with SAP.
CPS process solutions reduce the friction of implementing data intensive, mission-critical processes in SAP by automating data movement tasks, critical workflows and reporting ensuring business processes are orchestrated, repeatable and scalable. The Process BI platforms enables instant visibility, drill downs on any device.