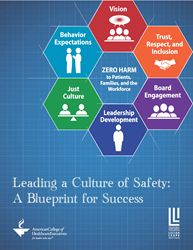 The goal in healthcare really needs to be zero preventable harm.
Orlando, FL (PRWEB) May 18, 2017
The American College of Healthcare Executives (ACHE) and the National Patient Safety Foundation's Lucian Leape Institute (LLI) have released a new resource to guide healthcare leaders in creating a culture of safety in their organizations. Leading a Culture of Safety: A Blueprint for Success is being presented today at the 19th annual NPSF Patient Safety Congress being held this week in Orlando, FL.
The resource, now available online, is the culmination of work conducted over the past year by ACHE and the LLI, the think tank of the National Patient Safety Foundation (NPSF), now newly merged with the Institute for Healthcare Improvement.
Patient safety experts and researchers have increasingly pointed to the roles of organizational culture and leadership in the success of patient and workforce safety initiatives. ACHE and the LLI partnered with a number of progressive healthcare organizations and renowned experts in leadership, safety, and culture to identify strategies and tactics known to contribute to a culture of safety. The result is a practical, tactical resource for healthcare leaders to use in their organizations' culture transformation.
The project was led by Charles D. Stokes, FACHE, Executive Vice President and Chief Operating Officer, Memorial Hermann Health System, and current ACHE Chair, and Gary S. Kaplan, MD, FACMPE, Chair and Chief Executive Officer, Virginia Mason Health System, and Chair of the LLI. They, along with Tejal K. Gandhi, MD, MPH, CPPS, Chief Clinical and Safety Officer, Institute for Healthcare Improvement, and President of the LLI, are presenting the work during a breakout session at the NPSF Congress.
"The goal in healthcare really needs to be zero preventable harm," said Kaplan. "We know that culture is at the foundation of any organization's response and approach to harm. We hope that leaders will use this blueprint in both a strategic and tactical manner in their journey to a culture of safety."
The Blueprint is divided into six interdependent domains, and each address factors essential to a culture of safety:

Establish a compelling vision for safety
Build trust, respect, and inclusion
Select, develop, and engage the board
Prioritize safety in selection and development of leaders
Lead and reward a Just Culture
Establish organizational behavior expectations
Strategies and tactics for each domain are outlined in two separate levels: foundational and sustaining. Stokes, Kaplan, and Gandhi note, however, that culture change is not a simple two-step process. Each organization will be at a different level in the journey, and honest, transparent evaluation of an organization's current state is an important consideration.
"The blueprint is based on the belief that safety cannot be just another priority in healthcare," said Stokes. "Safety must be a core value woven into the fabric of our organizations and actively led by healthcare executives."
About the National Patient Safety Foundation at the Institute for Healthcare Improvement
The Institute for Healthcare Improvement (IHI) and the National Patient Safety Foundation (NPSF) began working together as one organization in May 2017. The newly formed entity is committed to using its combined knowledge and resources to focus and energize the patient safety agenda in order to build systems of safety across the continuum of care. To learn more about our trainings, resources, and practical applications, visit ihi.org/PatientSafety.
About the NPSF Lucian Leape Institute
The Lucian Leape Institute, established in 2007 by the National Patient Safety Foundation, is charged with defining strategic paths and calls to action for the field of patient safety, offering vision and context for the many efforts under way within health care, and providing the leverage necessary for system-level change. Its members are national thought leaders with a common interest in patient safety whose expertise and influence are brought to bear as the Institute calls for the innovation necessary to expedite the work and create significant, sustainable improvements in culture, process, and outcomes critical to safer health care.
About the American College of Healthcare Executives
The American College of Healthcare Executives is an international professional society of 40,000 healthcare executives who lead hospitals, healthcare systems and other healthcare organizations. ACHE's mission is to advance our members and healthcare management excellence. ACHE offers its prestigious FACHE® credential, signifying board certification in healthcare management. ACHE's established network of 78 chapters provides access to networking, education and career development at the local level. In addition, ACHE is known for its magazine, Healthcare Executive, and its career development and public policy programs. Through such efforts, ACHE works toward its vision of being the preeminent professional society for healthcare executives dedicated to improving health. The Foundation of the American College of Healthcare Executives was established to further advance healthcare management excellence through education and research. The Foundation of ACHE is known for its educational programs—including the annual Congress on Healthcare Leadership, which draws more than 4,000 participants—and groundbreaking research. Its publishing division, Health Administration Press, is one of the largest publishers of books and journals on health services management, including textbooks for college and university courses. For more information, visit http://www.ache.org.